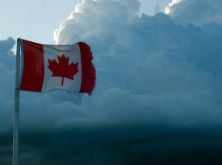 As reported last week, Canadian anti-piracy company Canipre has been working with rightsholders to monitor BitTorrent networks for alleged infringers.
One of Canipre's partners is Voltage Pictures, the company that launched a huge campaign in the United States targeting thousands of alleged sharers of the movie The Hurt Locker. Voltage's settlement project has now spread to Canada and the first unlucky targets are customers of the ISP TekSavvy.
Voltage Pictures are claiming that around 2,000 TekSavvy users have been monitored sharing around two dozen of their titles including Tucker & Dale vs Evil. They asked the ISP to hand over their personal details so they can be approached for settlement, TekSavvy refused and the whole thing went to court in Toronto Monday.
However, while TekSavvy have gone out of their way to keep their customers informed (leading observers to believe that they would end up fighting Voltage Pictures to defend their customers' privacy) yesterday's proceedings weren't to go that way at all.
TekSavvy CEO Marc Gaudrault said that after spending a considerable amount of time the company had come to a decision that it would not to oppose the motion for discovery filed by Voltage.
"Everybody should know though that we have looked into all angles to determine what our position should be in this situation and after spending a significant amount of time and soliciting a considerable amount of advice from numerous respected sources, we found that we simply could not comment on the merits of the case," Gaudrault explained.
The TekSavvy CEO says the company's primary responsibility is to ensure that customers being targeted by Voltage Pictures get "adequate notice" but added that the best way for people not to become involved in the case "is to simply not engage in such [illegal file-sharing] activities."
After learning there would be no fight, there was a backlash among some users which prompted a response from Gaudrault.
"If there was more I could do to protect your privacy, I would do it. I just don't have a hook," he said. "Whatever behavior our customers engage in is not for us to scrutinize. If we wade into that, we are essentially going against Net Neutrality principles that we fought for."
Gaudrault said that new Canadian copyright laws had tied his hands. He said that the Copyright Modernization Act shelters ISPs from liability from infringement based on the fact that they are mere intermediaries and nothing more. Getting further involved in the merits of the case could jeopardize that.
"The law is the law. I can't defend against the law. The laws are there to defend against bad things. If we defend against laws, that makes us bad. We don't do that. We've never done that," he said.
But already the ISP's decision is coming under scrutiny.
Writing on the Excess Copyright blog, lawyer Howard Knopf says that despite the ISP's openness, questions will arise as to why TekSavvy isn't opposing the motion as ISPs Shaw and Telus did (with success) in a music industry lawsuit dating back to 2004.
"In this regard, it is interesting to compare Voltage's material with the BMG et al material filed in 2004 that was rejected by the Federal Court and Federal Court of Appeal at that time as inadequate in a very comparable situation, as a result of which we now have clear and binding appellate case law," Knopf wrote.
One success that did come out of the hearing is that the judge apparently took notice of a letter filed by the Canadian Internet Policy and Public Interest Clinic which requested a delay in the court hearing Voltage's motion for discovery.
CIPPIC argued that there had been insufficient time from the filing of the motion to yesterday's hearing date for defendants to "learn of the motion, retain, be advised by and instruct legal counsel," and insufficient time for "CIPPIC to prepare and file an application to intervene in the motion."
Despite opposition from Voltage the hearing was adjourned until January 14, 2013. In the meantime TekSavvy could potentially change its mind on the decision not to oppose the motion but given Marc Gaudrault's decisiveness since the weekend, that seems unlikely. Should that remain the case, any opposition will have to come from CIPPIC and the defendants.