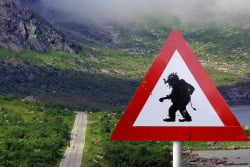 Last summer, a U.S. District Court in Minnesota sentenced Paul Hansmeier to 14 years in prison, to be followed by two years of supervised release.
Hansmeier was a key player in the Prenda Law firm, which pursued cases against people who were suspected of downloading pirated porn videos via BitTorrent.
While suing alleged pirates is not illegal, Prenda Law went much further. Over the years the firm faced negative court rulings over identity theft, misrepresentation, and even deception.
The Original Prenda Honeypot
Most controversial were the shocking revelations that Prenda itself produced adult videos and uploaded their own torrents to The Pirate Bay. In doing so, they created a honeypot for the people they later sued over pirate downloads.
The allegations were serious enough to land on the radar of US law enforcement agencies which launched a criminal investigation, culminating in prison sentences for the two key players.
Today, Paul Hansmeier and his former colleague John Steele are both in prison. While the latter received a reduced sentence for his cooperative stance, Hansmeier continues to appeal his sentence to this day.
From prison, he also continues to wage legal battles. Earlier this year Hansmeier requested a temporary release from prison, citing the COVID-19 pandemic, and he has been active on other fronts as well.
Hansmeier's New Adult Movie Copyright
This week, another handwritten letter from Hansmeier arrived at the court. This time it doesn't contain any legal requests. Instead, it's a straightforward declaration about a change in economic circumstances. This could be just a formality as part of bankruptcy proceedings but in this case, it points to something bigger.
"Defendant Paul Hansmeier, acting out of an abundance of caution, respectfully notifies the relevant parties that he now owns the right to a short adult movie," the letter reads.
There are no further details available in the letter but a search through court records possibly provides more insight. In a separate case, Hansmeier reveals that he would like to sue alleged pirates again, from prison.
This scheme is detailed in a complaint Hansmeier filed at a federal court in Columbia late May, targeting U.S. Attorney General William Barr.
Hansmeier Wants to Sue Pirates, Again
The convicted attorney explains that he would like to "enforce copyrights" via the Olan Mills method. In doing so, he plans to "retain an investigator to make his copyrighted works available to suspected infringers via notorious digital piracy sites."
Alleged pirates who fall for this scheme will then be sued and can expect a settlement offer to resolve the case. This is more or less the same model as the original Prenda honeypot scheme but this time it would be out in the open.
Hansmeier asks the federal court for a declaration that U.S. Attorney General William Barr will not go after him for fraud or extortion. According to the convicted attorney, the US Constitution prohibits the Attorney General from doing so. If there are any objections, the US should intervene in the yet-to-be-filed piracy cases instead.
US District Judge James Boasberg reviewed the request but decided to dismiss the complaint last week, noting that "the Attorney General has absolute discretion in deciding whether to investigate claims for possible criminal or civil prosecution."
As mentioned earlier, soon after, Hansmeier informed another court about the rights he now has to a short adult movie, so it may very well be that he will go ahead nonetheless.
An 'Open' Honeypot
There will be one key difference between the older honeypot scheme and the new one. In the past, Hansmeier and his colleagues concealed their involvement in the cases, using alter egos such as "Ingenuity 13." According to the news plans, everything will be in the open.
TorrentFreak obtained a copy of a draft complaint Hansmeier plans to send to alleged pirates. This will clearly state his name, his current circumstances, as well as a detailed description of the honeypot scheme.
"Plaintiff Paul Hansmeier is a natural person and is an inmate at Sandstone Federal Correctional Institution in Sandstone, Minnesota," the draft complaint targeting a hypothetical pirate reads.
"Plaintiff's investigator posted a torrent file to a notorious digital piracy website. Defendant downloaded the torrent file and opened it in specialized software, which resulted in Defendant accessing Plaintiff's computer systems, which Plaintiff leases from a third-party, and copying the video," it adds.
The proposed openness and transparency will come after people are caught, of course. We doubt that any of the future honeypot torrents will carry this information.
It's quite bizarre to learn that a convicted attorney wants to restart his copyright-trolling venture from prison. While this may lead some to believe that Hansmeier has lost it, there might also be some method to the madness.
We are no experts on criminal law, but Hansmeier has proven to be rather determined in the battle against his criminal conviction. Keeping this in mind, the plan to restart his business in the open may in some way be a ploy to aid his defense.
If that is the case, and whether that will have any effect has yet to be seen. However, we'll certainly keep a close eye on any new "Hansmeier-related" torrents and lawsuits that pop up.
—
A copy of Hansmeier's complaint targeting U.S. Attorney General William Barr, detailing his plans, is available here (pdf)