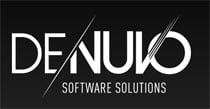 Just recently, anti-piracy outfit Denuvo has been hitting the headlines every few weeks, but for reasons the Austrian company would rather forget.
As a result of providing the leading anti-piracy solution for games, the company is now well and truly in the spotlight of pirates, each desperate to defeat Denuvo protection on new games as quickly as possible. Now, however, the company has a rather different headache to contend with.
According to a post on Russian forum RSDN, Denuvo is accused of engaging in a little piracy of its own. The information comes from a user called drVanо, who is a developer at VMProtect Software, a company whose tools protect against reverse engineering and cracking.
"I want to tell you a story about one very clever and greedy Austrian company called Denuvo Software Solutions GmbH," drVano begins.
"A while ago, this company released a protection system of the same name but the most remarkable thing is that they absolutely illegally used our VMProtect software in doing so."
drVano says that around three years ago, VMProtect Software and Denuvo entered into correspondence about the possibility of Denuvo using VMProtect in their system. VMProtect says they were absolutely clear that would not be possible under a standard $500 license, since the cost to Denuvo of producing something similar for themselves would be several hundred thousand dollars.
However, with no proper deal set up, drVano says that Denuvo went ahead anyway, purchasing a cheap license for VMProtect and going on to "mow loot" (a Russian term for making bank) with their successful Denuvo software.
"Everything went well for Denuvo until we notified them that their VMProtect license had been canceled due to a breach of its licensing conditions. Options were offered for solving the problem, including paying modest compensation to us. Our proposal was ignored," drVano says.
Interestingly, drVano says that VMProtect then took what appears to be a rather unorthodox measure against Denuvo. After cooperation with Sophos, the anti-virus vendor agreed to flag up the offending versions of Denuvo as potential malware. VMProtect says it has also been speaking with Valve about not featuring the work of "scammers" on its platform.
In a nutshell, Denuvo is being accused of using pirated versions of VMProtect in order to create its own anti-piracy software. It's one of the most ironic claims ever made against an anti-piracy company and it will be intriguing to see how this plays out. According to VMProtect, legal action might not be far away.
"Through our long-standing partners from Intellect-C, we are starting to prepare an official claim against Denuvo Software Solutions GmbH with the prospect of going to court. This might be a very good lesson for 'greedy' developers who do not care about the intellectual property rights of their colleagues in the same trade," drVano concludes.
Just last week, the latest version of Denuvo was cracked by rising star Baldman, who revealed what a toll the protection was taking on video gaming hardware. The protection, which according to reports is the only recent version of Denuvo that doesn't use VMProtect, collapsed in less than a week.
Update: VMProtect has posted an update stating that Denovo has permission to use its software.