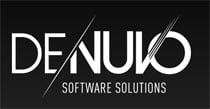 It's fair to say that of all video games anti-piracy technologies, Denuvo is perhaps the most hated of recent times. That hatred unsurprisingly stems from both its success and complexity.
Those with knowledge of the system say it's fiendishly difficult to defeat but in recent times, cracks have been showing. In 2017, various iterations of the anti-tamper system were defeated by several cracking groups, much to the delight of the pirate masses.
Now, however, a new development has the potential to herald a new lease of life for the Austria-based anti-piracy company. A few moments ago it was revealed that the company has been bought by Irdeto, a global anti-piracy company with considerable heritage and resources.
"Irdeto has acquired Denuvo, the world leader in gaming security, to provide anti-piracy and anti-cheat solutions for games on desktop, mobile, console and VR devices," Irdeto said in a statement.
"Denuvo provides technology and services for game publishers and platforms, independent software vendors, e-publishers and video publishers across the globe. Current Denuvo customers include Electronic Arts, UbiSoft, Warner Bros and Lionsgate Entertainment, with protection provided for games such as Star Wars Battlefront II, Football Manager, Injustice 2 and others."
Irdeto says that Denuvo will "continue to operate as usual" with all of its staff retained – a total of 45 across Austria, Poland, the Czech Republic, and the US. Denuvo headquarters in Salzburg, Austria, will also remain intact along with its sales operations.
"The success of any game title is dependent upon the ability of the title to operate as the publisher intended," says Irdeto CEO Doug Lowther.
"As a result, protection of both the game itself and the gaming experience for end users is critical. Our partnership brings together decades of security expertise under one roof to better address new and evolving security threats. We are looking forward to collaborating as a team on a number of initiatives to improve our core technology and services to better serve our customers."
Denuvo was founded relatively recently in 2013 and employs less than 50 people. In contrast, Irdeto's roots go all the way back to 1969 and currently has almost 1,000 staff. It's a subsidiary of South Africa-based Internet and media group Naspers, a corporate giant with dozens of notable companies under its control.
While Denuvo is perhaps best known for its anti-piracy technology, Irdeto is also placing emphasis on the company's ability to hinder cheating in online multi-player gaming environments. This has become a hot topic recently, with several lawsuits filed in the US by companies including Blizzard and Epic.
Denuvo CEO Reinhard Blaukovitsch
"Hackers and cybercriminals in the gaming space are savvy, and always have been. It is critical to implement robust security strategies to combat the latest gaming threats and protect the investment in games. Much like the movie industry, it's the only way to ensure that great games continue to get made," says Denuvo CEO Reinhard Blaukovitsch.
"In joining with Irdeto, we are bringing together a unique combination of security expertise, technology and enhanced piracy services to aggressively address security challenges that customers and gamers face from hackers."
While it seems likely that the companies have been in negotiations for some, the timing of this announcement also coincides with negative news for Denuvo.
Yesterday it was revealed that the latest variant of its anti-tamper technology – Denuvo v4.8 – had been defeated by online cracking group CPY (Conspiracy). Version 4.8 had been protecting Sonic Forces since its release early November 2017 but the game was leaked out onto the Internet late Sunday with all protection neutralized.
Sonic Forces cracked by CPY
Irdeto has a long history of acquiring anti-piracy companies and technologies. They include Lockstream (DRM for content on mobile phones), Philips Cryptoworks (DVB conditional access system), Cloakware (various security), Entriq (media protection), BD+ (Blu-ray protection), and BayTSP (anti-piracy monitoring).
It's also noteworthy that Irdeto supplied behind-the-scenes support in two of the largest IPTV provider raids of recent times, one focused on Spain in 2017 and more recently in Cyprus, Bulgaria, Greece and the Netherlands (1,2,3).