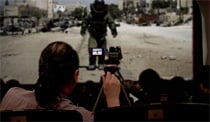 Presented by the industry as the most damaging form of piracy, camcording of movies in theaters has been going on for more than three decades.
Instances of recording can be traced back to theaters all around the world due to the forensic marking employed by film companies. No longer the force it once was, occurrences in the United States have reduced in recent years due to tough local laws and increased security at theaters.
Over in the UK, where movies are often released a little later than in the US, cinema workers are given cash incentives to keep an eye out for would-be cammers. In a scheme in operation since 2006, staff can earn up to £500 each if they manage to stop a potential pirate in his or her tracks.
As can be seen from the image above, there are strict rules governing whether an individual is awarded a few hundred pounds for stopping "millions" in movie piracy. Perhaps the most interesting one is calling the police, since simply recording a movie is not illegal in the UK. The Copyright, Designs and Patents Act 1988 can only be used against a suspected cammer when there is proof that the recording was part of a commercial operation or that there was intent to later upload it.
Nevertheless, the police do get called and according to stats released today by FACT, since April 2013 police have attended a dozen suspected camming instances in the UK on movies including Gravity, Captain Phillips, Rush, One Direction: This Is Us, Alan Partridge: Alpha Papa and Monsters University. A total of 15 vigilant staff will collect rewards of up to £500 each as a result.
Cambusters – The theater workers picking up cash rewards from FACT
"Cinema staff are the frontline in protecting films from being pirated and I am always pleased to be able to recognize their work," said Kieron Sharp, FACT Director General, announcing what could amount to a total reward handout of £7,500.
"FACT's strategy funded by the film distributors seeks to prevent the initial recording that seeds piracy globally. We continue to work together with UK cinema operators to support the success of the cinema experience and to allow continued investment by FACT's members in exciting entertainment for all audiences."
There can be little doubt that stopping recording in theaters by any means will be FACT's goal (and they will no doubt be pleased with the results this year), but the details underline the weakness in the law which isn't likely to be changed anytime soon.
Of a total 12 incidents (which by default must've included at least 12 people and probably many more) police arrested only five people and issued another nine with cautions. Just two are currently on police bail. Notably there is no mention of a single prosecution or conviction.
But despite the law favoring would-be pirates, FACT are still able to get the police to take camming seriously, especially when the allegations go beyond simple recording and into distribution. Earlier this year, police responded in large numbers to detain the same alleged movie pirate not once, but twice.