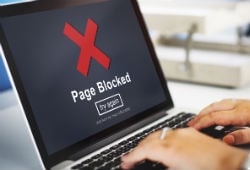 Last year Norway joined the ranks of countries where ISPs are ordered to block access to websites on the behest of entertainment industry companies.
In a case started by the Motion Picture Association (MPA), a local court ordered Internet providers to block users' access to several large 'pirate' websites to deter online copyright infringement.
As is often the case with these type of blockades, the Hollywood movie studios didn't stop at one attempt. They recently went back to court asking for an expansion that would target eight "pirate" streaming sites.
The court granted this request, and as a result WatchSeries, Putlocker, TUBE+, CouchTuner, Watch32, SolarMovie, ProjectFreeTV and Watch Free were added to the national blocklist.
Rune Ljøstad, Partner at the MPA's lawfirm Simonsen Vogt Wiig, is happy with the outcome which paves the way for similar blocking expansions in the future.
"Together, the decisions create a clear legal basis in Norway to block sites that make copyrighted works available to the public without permission," Ljøstad says.
While Hollywood is understandably happy, the blocking efforts raise concerns as well. The local Pirate Party, which protested the initial blocks by launching a censorship free DNS server, fears a slippery blocking-slope that may lead to overbroad censorship.
"I'm afraid that blocking sites will have a domino effect," says Tale Haukbjørk Østrådal, leader of the Norwegian Pirate Party.
"If we block copyright infringement now, what will be the next thing our society accepts to block? The path from blocking torrent sites to censorship is short, and I do not wish to go down that path," she adds.
The Pirate Party sees blocking as a threat to democracy, as it's a tool to filter and manipulate what information people can see.
"Censorship is toxic to a democracy. We need to keep the Internet free of censorship, because we need the Internet as a tool to make informed choices. A democracy is failing without informed citizens," Østrådal notes.
There are alternatives to blocking, according to the Pirate's leader. The entertainment industries should rethink their business models to compete with piracy, instead of trying to hide it.
"To find the best alternatives the entertainment industry must know why people are sharing, and change their business models. The question isn't 'How do we make people pay?', it is 'How do we let people pay and feel comfortable with our business model?'"
This means offering more content for a good price, without limitations or artificial boundaries. At the same time artists should use the Internet to connect with fans directly, cutting out the middle-man who profits from their work.
"Personally, I would love to tear down the whole entertainment industry and built it anew. The distributors were never the good guys. They have built an empire by making money from other people's art," Østrådal says.
"When we hear the word 'artist', we all think of a creative, poor person. It's fucked up," she adds.
The Pirate Party's fears won't stop Internet providers from complying with the most recent court order.
This means that the streaming sites in question are now a no-go zone. Whether the movie studios have concrete plans to expand the blocking efforts even further is unknown.