With millions of daily visitors ExtraTorrent is the second largest torrent site, trailing only behind The Pirate Bay.
However, for almost a day now visitors have been unable to reach the site. Those who try to access it see a Cloudflare notification instead, suggesting that the site's servers are down (the message appears intermittently).
TorrentFreak reached out to the site's operator a while ago, but thus far we haven't heard back. The site's official Facebook page doesn't have any updates on the situation either.
ExtraTorrent is down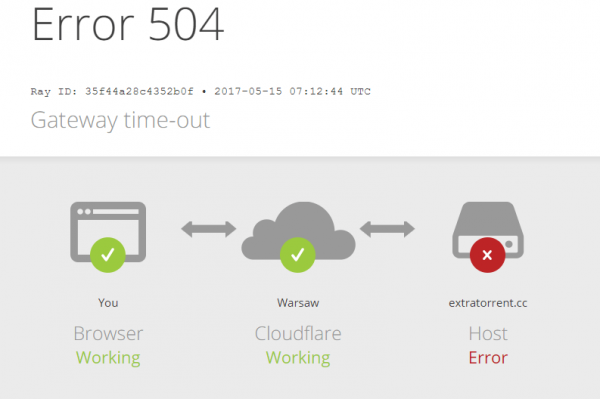 While users may fear the worst, for now the most likely explanation is that the site is down as the result of a technical problem. The site's domain names are operating as they should, but there might be an issue with the server.
Although ExtraTorrent is offline, several release groups connected to the site are still operating. The popular TV distribution groups EtHD and ettv continue to release content through other sites, including The Pirate Bay.
ExtraTorrent's image hosting site ExtraImage is also up and running, as usual.
If we hear more about the current downtime, we will update the article accordingly. For the time being, however, ExtraTorrent users will have to get their torrent fix elsewhere.
Update: ExtraTorrent came back after little over a day.