There are many file-sharing sites operated by individuals in the United States and over the years they have become acutely aware that their activities could land them in trouble. As a result most take precautions to hide who they are. UK site admins may soon feel the need to more closely follow the example set by their US counterparts.
Through local anti-piracy group FACT, the major Hollywood studios have been sending out letters to many file-sharing and streaming sites in the UK in an effort to scare them into closure. In at least one recent case, however, they went much further than a basic emailed threat.
The TorrentZone private tracker has operated without incident for some time, but all that changed last week when FACT representatives called in person at the owner's home.
"FACT knocked my door on Thursday 28/03/2013 at 0730hrs where upon I was handed a cease & desist letter in person," the owner told TorrentFreak.
FACT has been sending out these letters to many different sites for some time now. They are all signed by Peter O'Rourke, FACT's Director of Investigations and Intelligence.
Titled "UNAUTHORISED DISTRIBUTION OF MOTION PICTURE SUBJECT TO COPYRIGHT", the letters state that FACT have examined the site in question and have found that "predominantly infringing film and TV content" is being made available.
"You will no doubt be aware of the conviction this year of Anton Vickerman, the administrator of surfthechannel.com, at Newcastle Crown Court. Vickerman was sentenced to a four year term of imprisonment," the letter continues.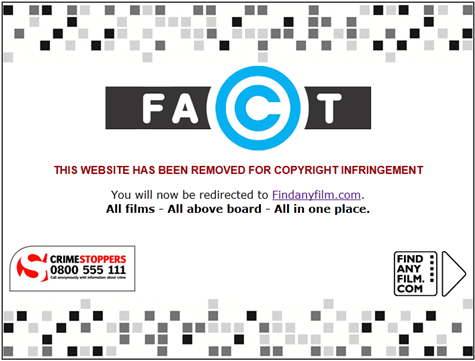 "This case has clearly demonstrated that online copyright infringement is a crime and that the courts take a very serious view of those who persistently offend. FACT requests that you desist from this activity immediately. Failure to do so will result in further investigation which may result in criminal prosecution," FACT concludes.
That FACT took the time to turn up in person at the home of the TorrentZone admin is quite unusual (an email to the site or its host is more common), but considering it took TorrentFreak just a couple of minutes to obtain the owner's personal details, the same would have been achieved by Hollywood extremely easily.
In any event, the personal touch is clearly a powerful one. TorrentZone has already been closed down and it's clear to us that the admin has no intention of bringing it back. But just in case, FACT wants to ensure that doesn't happen easily. In exchange to putting an end to the matter they they want to take possession of the site's domains.
"I agreed verbally and signed further letters to formally sign over the domains related to the site. I was told by [the two FACT men who called] that if I did this immediately there may not be any further action taken against me," TorrentZone's admin concludes.
Another site that has received FACT threats recently is AfterDarkTorrents, a lesser-known private tracker. Presumably FACT didn't turn up at the owner's home though, as the site is refusing to shut down.
The same cannot be said about TVstreamScript which shut down recently taking hundreds of other sites with it.