US authorities began another round of domain name seizures a few hours ago, targeting several sports streaming sites.
Thus far, neither the Department of Justice nor Homeland Security's ICE unit have officially commented on the seizures, but it can't be a coincidence that sports streaming sites are being targeted a few days before the Super Bowl is due to be aired.
The targets of today's seizure round include Firstrowsports.tv, Firstrowsports.com, Firstrowsports.net and Soccertvlive.net, but more may be added in the coming hours (see update below). The former apparently remains operational via Firstrowsports.eu.
For the first time, seized domains also include the .TV extension as Firstrowsports.tv is now displaying the familiar seizure banner. The .TV domain belongs to islands of Tuvalu, but is operated by the US-based company Verisign.
Last year there was a similar round of domain seizures during the lead up to the largest American sports broadcast. At the time the feds seized a dozen domains including Firstrow.net and Atdhe.net.
Both sites continued to operate under different domain names, several of which have been taken down today.
Seizure Banner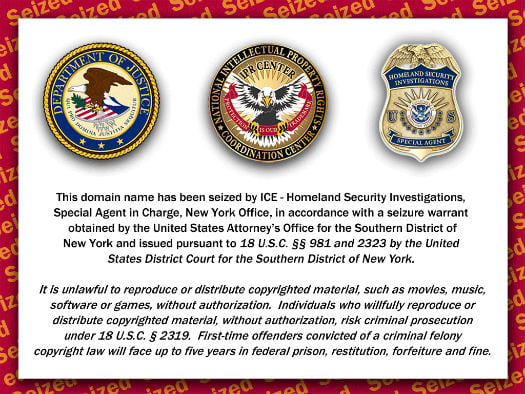 The seizures in 2011 also targeted domains linked to the website Rojadirecta, owned by the Spanish company Puerto 80. Despite being declared legal by two courts in Spain, the US authorities ruled that Rojadirecta was a criminal operation. The company has been fighting in US courts to get the decision overturned, but so far without luck.
Another target during the seizures last year was ChannelSurfing.net, which was operated by the Texan Brian McCarthy. The 32-year-old McCarthy was later taken into custody on suspicion of criminal copyright infringement, and he is currently awaiting his trial.
The extent of the fallout of the new "Super Bowl Crackdown" will become apparent in the coming days. It will, however, once again fuel the censorship debate which exploded last month with the SOPA/PIPA protests and the MegaUpload shutdown.
Update: ICE statement and arrest.