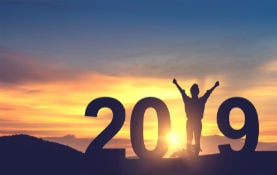 Following the latest trends is one of the main tasks at the TorrentFreak newsroom and this job continues in the New Year.
While predicting the future isn't in our job description, we're not too shy to take a guess or two. After the poor results last year, we might just have a shot in 2019.
Demonoid Makes a Comeback
The first prediction is easy, but far from guaranteed. The popular semi-private BitTorrent tracker Demonoid vanished again last year. But it will return.
The site's owner has been missing in action for a while. However, over the years he has shown to be dedicated to the site and its userbase. The site has made several comebacks in the past and we predict that the same will happen in 2019.
Whether Demonoid will ever return to its glory days, with millions of visitors per week, is doubtful though.
Site Blocking Comes to The US
US-based movie studios have lobbied and litigated for site blocking measures all over the world. This has been quite successful, but on their home turf, all pirate sites remain readily available.
This is particularly 'problematic' because US visitors are driving the most traffic to many torrent and streaming portals.
Copyright holders have long feared a SOPA-like backlash if they called on US Internet providers to block sites. However, the tide is slowly turning.
In 2019 we predict to see see the start of a broader campaign to bring site-blocking to the US. This is not expected to go easily, but it's an inevitable move.
The Pirate Bay Goes Underground
For more than a decade, The Pirate Bay has been a thorn in the side of the entertainment industries. This won't change in the new year, but the pressure will clearly increase.
At the moment, Pirate Bay's .org domain is safe and Cloudflare is still working with the notorious torrent site as well.
We predict that this won't last. The Pirate Bay will eventually be forced to move 'underground.' Instead of operating as a public-facing website, it will serve torrents from the Dark Web, with an .onion domain that can't be seized.
Game of Thrones Leaks Early
The hit series Game of Thrones will air its final season in 2019. As the most-pirated TV-show in history, it is bound to attract the attention of millions of downloaders.
The makers of the series have taken extreme measures to prevent any storylines from being spoiled but it only requires a small mishap to ruin it all.
This will become apparent again in 2019. We predict that at least one episode of the new Game of Thrones' final season will leak before it airs. This won't be due to some sophisticated hacking attempt, but rather through a mishap somewhere in the distribution process.
Google Starts Issuing Piracy Warnings
Google has taken countless anti-piracy measures in recent years. However, many rightsholders are still not content.
Ideally, they would like the search engine to remove pirate sites from search results altogether. Google has made it clear that this would be a step too far, but there is something else they can do.
In the next year, we predict that Google will add "infringement" alerts to the search engine as well as the Chrome browser. As a result, users will see a warning message when they attempt to visit a site for which Google has received thousands of takedown requests.
The measure will be similar to the warnings Google displays for sites that serve "malware" or other potentially unwanted software.
—-
Happy New Year!