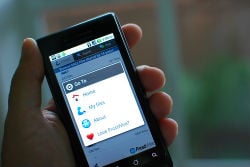 With more than a million installs FrostWire is one of the most popular file-sharing applications on the Android platform. But despite this success Google has decided to pull the app from the Android market place.
FrostWire's Angel Leon tells TorrentFreak that his company was not informed why FrostWire was suspended, but the first thought is that it has something to do with the recent settlement his company reached with the FTC.
Just before the weekend several news outlets reported that FrostWire and the FTC had settled their court case over privacy concerns. The government agency, which aims to protect the rights of consumers, alleged that FrostWire was disregarding users' privacy by sharing files by default.
FrostWire agreed that this was a valid concern and based on pointers from the trade commission, updated its desktop and Android applications. These updates were actually carried out months ago, meaning that since then the application was no longer a concern for the FTC, hence the settlement.
"We fixed the app ages ago, and probably 99.9% of the userbase is actually running 0.6.3 (one generation over), so there shouldn't be a hint of worry in regards to the FTC Complaints," Leon said.
However, some reports in the media made it seem like FrostWire was still breaching users' privacy, and this may have triggered Google's decision to boot the app from the Android market.
Angel Leon notes that the worst part of it all is the lack of communication on Google's part. Aside from a notice that the application had been suspended, the FrostWire team has received no information. It could be that the removal is totally unrelated to the FTC issue, but without a word from Google that's impossible to confirm.
"It's just plain wrong that you get suspended without ANY explanation or ANY notice, specially an app for which people have said they bought an Android for, and which has been installed on over 1 million devices during the last 12 months," Leon says.
Attempts from both the developers and TorrentFreak to contact Google about the issue remained unanswered thus far, so there is no other option for FrostWire than to wait.
For now the FrostWire Android app can still be downloaded via the FrostWire website. However, the number of shared files has dropped dramatically since this setting was disabled by default.
In the coming weeks the FrostWire team will turn the Android app into a (more usable) BitTorrent client, as they've already done with the desktop version. The source of this new client will be released under a GPL license as soon as the first version is released.
Let's hope that by then FrostWire will have been allowed back into the Android market.