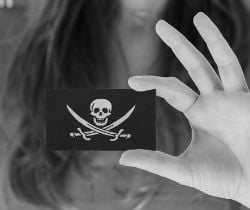 It's definitely not breaking news that the Australian piracy debate has reached unprecedented levels of activity. While the government proposes tough new measures such as "three strikes", Game of Thrones download records are throwing fuel on an already raging fire.
If the government is to be believed, many of the issues could be solved if copyright holders and Internet service providers would only shake hands, sit down for lunch, and agree on the best way to punish their errant subscribers. Trouble is, they've tried that, it didn't work, and Hollywood – via local movie company Village Roadshow – ended up suing ISP iiNet.
The record showed that iiNet won that battle in a big way, leaving Hollywood licking its wounds and banking on a return to voluntary discussions. Sadly, as recently confirmed in the senate, those talks are dead, but that hasn't stopped both iiNet and Village Roadshow making their feelings known.
Last week iiNet Chief Regulatory Officer Steve Dalby urged his customers to fight back against attempts to introduce fresh legislation, something which prompted Village Roadshow co-CEO Graham Burke to make his own voice heard. In an interview with Gizmodo yesterday, on more than one occasion Burke accused iiNet of lying over piracy.
Outrageous liars – the gloves are off
"It's sad that to forward their case, [iiNet] use what they must know is a fabric of lies," Burke said.
"They're saying that there's no proof that graduated response works. They're instancing a number of countries where graduated response was frustrated by lobbying and the power of Google, which pays little to no tax in Australia and creates nothing," he said, going on to attack Dalby directly.
"Some of the stuff Steve Dalby has said is just outrageous, and he's got to know its outrageous too," Burke said.
Not content with letting Burke have the last word, after the publication of the Gizmodo piece Dalby fired back, accusing the CEO of calling Australians "content thieves" without revealing their huge contribution to the industry.
The fightback – outrageous!
"Perhaps we've touched a nerve," Dalby began. "Mr Burke is obviously concerned about the increasing threat to his 'middle-man' status by the changes in technology and has failed to mention his colleague Simon Bush's comments that the (Aust Home Entertainment Distributor's Assoc) figures showed that 'on a per capita basis Australia is second only to the United States in digital consumer revenues'."
"So Australians are not only the worst pirates, but one of their best performing markets. Outrageous!" Dalby said.
Clearly riled at being described as "outrageous", Dalby suggested that Burke should look in the mirror.
"Mr Burke suggests that my comments are outrageous. I'm sure he doesn't like us pointing out some of the outrageous suggestions from his own industry. You know … stuff like 'You wouldn't steal a car, you wouldn't steal a handbag'."
"It's not our job to catch car thieves. It's not our job to catch bag-snatchers. It's not our job to stop on-line infringers. Whoa ! Outrageous!" Dalby fired back.
Responding to Burke's earlier claim that iiNet makes the most money from pirating customers so has a clear incentive to let them continue, Dalby said that Burke doesn't know what he's talking about.
Movie boss is ignorant
"Mr Burke also shows his ignorance of the ISP revenue model. Not only is he totally wrong, but I think he fails to be outrageous. The ISP subscription model, commonly in place in Australia, does not charge by the download, as he suggests, it is a fixed fee per month. In that model ( a bit like gym membership) the less data a customer uses, the more profitable they are," Dalby explained.
"This was an argument that failed the logic test in the High Court, but don't let that get in the way of your outrage Mr Burke."
And then, the inevitable. Local companies and anti-piracy outfits in piracy disputes often claim to be protecting local artists, yet as we saw in New Zealand, when subscribers got their first strike notices they were for artists like Rihanna and Lady GaGa. This type of scenario has not escaped the iiNet man.
Doing Hollywood's bidding
"Finally, if this is all about protecting 906,000 Aussie jobs why is it that not one single example of Aussie content ever gets a mention. It's always about American movies, music and TV," Dalby said.
"If you want to protect Aussie jobs, Mr Burke, how about you turn up to the industry talks and put something on the table? Where is the quid-pro-quo for Australian ISPs to do the bidding of your American masters?"
"No. I thought not," Dalby concludes.
The final bell – for now
It's pretty rare these days to see this kind of public dueling, but after the legal trauma Hollywood and Village Roadshow put iiNet through, it's not really a surprise that diplomacy is in tatters. Voluntary agreement still possible this year? Let's get them on Jerry Springer to find out.