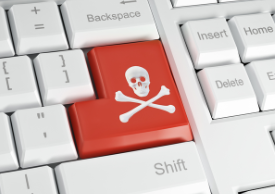 Around the world copyright holder groups are lobbying for increased efforts to combat online piracy.
The situation is no different in Sweden, where the Black Market Watch group just published a report calling for increased cooperation from stakeholders such as advertisers and ISPs.
In an opinion piece for DN, Internet providers are accused of handsomely profiting from their inaction, generating an estimated 2.5 billion Swedish krona ($230 million) from piracy.
"According to our calculations, revenue for Swedish Internet providers potentially exceeds two-and-a-half billion kronor a year, much more than the pirate sites earn," Black Market Watch co-founder Karl Lallerstedt writes, together with the report's co-author Waldemar Ingdahl.
They argue that Internet providers are in a unique position to prevent copyright infringement, as they can see what their users do online and have the means to block websites.
Speaking with IDG, Jon Karlung, CEO of Internet provider Bahnhof, refutes these calls and discredits the profit claims as lobbyist nonsense.
"It is pure nonsense, there is no truth in it. This is the work of their business lobbyists who want to put more responsibility on us. Our task is to ensure an internet with free movement, not playing cops," he says.
Ideally, rightholders would like to see a series of measures being introduced to combat copyright infringement. This includes easier domain name seizures, increased anti-piracy efforts from law enforcement and ISPs, plus better education about the risks of piracy.
According to Karlung, Bahnhof already does enough to alert subscribers about unsafe sites. It is also happy to assist law enforcement but the company doesn't see itself proactively policing its network to catch pirates.
"We inform users about unsafe sites today, and we will continue to do so without copyright holders instructing us what to do," Karlung says.
"If there is merit to the Swedish legislation, we will help the police if they can show in a documented manner that the servers are being used for illegal activities. But it is not our job to act, they themselves must identify the type of activities."
The copyright holder requests go directly against one of the core goals of the company – protecting the privacy of its subscribers. In recent years the Internet provider has fought hard to guarantee this right.
Bahnhof has been a major opponent of extensive data retention requirements, launched a free VPN to its users, and recently vowed to protect subscribers from a looming copyright troll invasion.
Given the above, it's unlikely that rightsholders can expect much voluntary cooperation from Bahnhof.
This stance doesn't come as a surprise, and the report suggests that rightsholders should demand new legislation from Swedish lawmakers to force ISPs and other stakeholders into action.