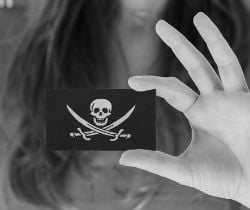 More than five years ago the Irish Recorded Music Association (IRMA) ended its legal action against local ISP Eircom when the ISP agreed to implement a new anti-piracy policy.
The agreement sees Sony, Universal and Warner tracking Eircom subscribers online and the ISP forwarding infringement notices to customers uploading music without permission. Eircom promises to disconnect subscribers who are caught sharing three times.
The entire point of this scheme and others like it is to inform Internet users that a "graduated response" is in operation. Whenever a notice is received users should be in no doubt they're edging closer to being punished and ultimately cut off.
For its part the music industry is clear. 'Strikes' regimes which don't promise to disconnect or otherwise punish users are much less effective than those that have these measures. After all, who wants to be cut off by their ISP?
But if that's indeed the case, why then is Eircom keeping the prospect of disconnections out of its communications with alleged pirates?
TorrentFreak has obtained one of the latest letters being sent out to Eircom subscribers. Received by a customer already on a warning, it begins normally enough.
"Eircom has a long association with Irish music and we believe that artists deserve to be paid for the work they create. Most music files are protected by copyright and while it may be acceptable for them to be stored on a computer for personal use, it is unlawful to share those files without the copyright owner's permission," the letter reads.
The warning goes on to note that sharing copyrighted music is a breach of Eircom's terms and conditions and as such it's the subscriber's responsibility to ensure the connection is not used to breach copyright. Standard stuff so far.
At this point one might expect Eircom to be getting into the details of its "three strikes" scheme implemented on IRMA's behalf, informing the subscriber how after the third time sharing copyrighted material he or she will have their broadband connection terminated. Instead, however, the ISP makes no mention of it.
"Please accept this letter as an advisory notice, and should no further activity as described above occur then no further action will be taken. The details of this notification will be retained for 12 months from the dates of this letter and will be deleted thereafter unless we receive an additional notification in that period," the notice adds.
And that's pretty much it. No mention of a graduated response, no mention that subscribers will disconnected from the Internet. It's a very strange approach considering the substantial sums of money spent by IRMA and Eircom to reach their "three strikes" agreement.
So why the kid gloves?
Since disconnecting customers is not exactly helpful to profitability, Eircom's agreement with IRMA requires that the ISP isn't put at a commercial disadvantage. To that end, IRMA has been locked in a five-year legal battle to force rival ISP UPC to also implement "three strikes".
Pending the outcome of that case, Eircom is currently the only ISP in Ireland promising to disconnect pirates. Playing that fact down in its letters to customers would certainly make commercial sense and stop those looking to jump ship.
However, the other elephant in the room is that last year Eircom admitted it hadn't disconnected anyone in four years of the "strikes" scheme. Add that to "weak" letters being sent out to customers and some might presume that disconnections are already off the table, at least unofficially.
Still, there's always the educational aspect to "graduated response" campaigns – you've been caught once so why not go straight now?
As required by the IRMA deal, Eircom informs "strike" recipients where they can go to obtain legal music downloads – or at least that's the idea. Sadly, in its infringement notices Eircom points them to eircom.net/legalmusic, a page that hasn't existed for some time.
A secondary educational effort in the letter sees the ISP encourage customers to completely remove file-sharing software and infringing files from their computers.
"IRMA provides a program called 'Digital File Check' which can be downloaded from their website. It checks for and removes any infringing files and applications commonly used to share music illegally," the letter notes.
However, those following the link (www.ifpi.org/content/section_resources/digital-file-check.html) find it less than helpful. Links to the software on IFPI's site send users round in a never-ending loop and the official domain DigitalFileCheck.com, for those who can be bothered to hunt it down, is completely dead.
The situation is baffling. Why spend years pushing for this system yet execute it so poorly once it's in place? Why then force other ISPs to do the same? It's debatable whether these schemes have any effect at all, but if this is the model that's no surprise.