While relatively underreported, many U.S. district courts are still swamped with lawsuits against alleged film pirates.
The copyright holders who initiate these cases generally rely on an IP address as evidence. This information is collected from BitTorrent swarms and linked to a geographical location using geolocation tools.
With this information in hand, they then ask the courts to grant a subpoena, directing Internet providers to hand over the personal details of the associated account holders.
Malibu Media, the Los Angeles-based company behind the 'X-Art' adult movies, is behind most of these cases. The company has filed thousands of lawsuits in recent years, targeting Internet subscribers whose accounts were allegedly used to share Malibu's films via BitTorrent.
Increasingly, judges around the country have grown wary of these litigation efforts. This includes US Federal Judge William Alsup, who's tasked with handling all such cases in the Northern District of California.
Responding to a recent request, Judge Alsup highlights the fact that Malibu filed a "monsoon" of hundreds of lawsuits over the past 18 months, but later dismissed many of them after without specifying a reason.
The judge is skeptical about the motivation for these dismissals. In particular, because courts have previously highlighted that Maxmind's geolocation tools, which are cited in the complaints, may not be entirely accurate. This could mean that the cases have been filed in the wrong court.
"Malibu Media's voluntary dismissal without prejudice of groups of its cases is not a new pattern. A sizable portion of the cases from previous waves were terminated in the same way," Judge Alsup writes (pdf).
"The practice has just become more frequent, and it follows skepticism by the undersigned judge and others around the country about the accuracy of the Maxmind database," he adds.
This is not the first time that geolocation tools have been called into doubt and to move the accuracy claims beyond Maxmind's own "hearsay," Judge Alsup now demands extra evidence.
In his order he denies the request to continue a case management conference in one of their cases. Instead, he will use that hearing to address the geolocation issues. In addition, all Malibu cases in the district may be barred if the accuracy of these tools isn't "fully vetted."
"That request is DENIED. Instead, Malibu Media is hereby ordered to SHOW CAUSE at that hearing, why the Court should not bar further Malibu Media cases in this district until the accuracy of the geolocation technology is fully vetted," the order reads.
"To be clear, this order applies even if Malibu Media voluntarily dismisses this action," Judge Alsup adds.
Denied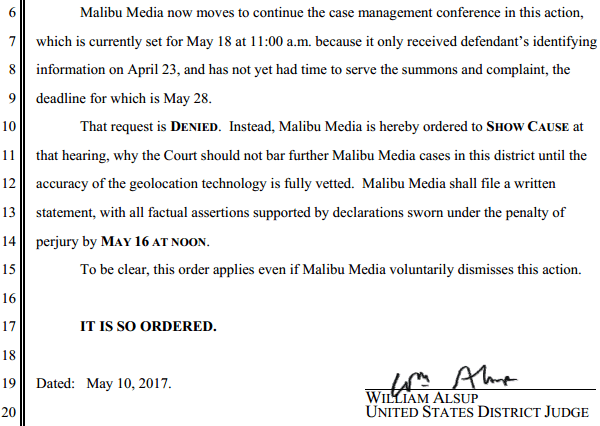 SJD, who follows the developments closely and first reported on the order, suspects that the IP-address 'error rate' may in fact be higher than most people believe. She therefore recommends defense lawyer to depose ISP employees to get to the bottom of the issue.
"If you are a defense attorney who litigates one of the BitTorrent infringement cases, I suggest deposing a Comcast employee tasked with subpoena processing. I suspect that the error rate is much higher than trolls want everyone to believe, and such testimony has a potential to become a heavy weapon in every troll victim's arsenal," SJD says.
In any case, it's no secret that geolocation databases are far from perfect. Most are not updated instantly, which means that the information could be outdated, and other entries are plainly inaccurate.
This is something the residents of a Kansas farm know all too well, as their house is the default location of 600 million IP-addresses, which causes them quite a bit of trouble.
It will be interesting to see if Malibu will make any efforts to properly "vet" Maxmind's database. It's clear, however, that Judge Alsup will not let the company use his court before fully backing up their claims.
To be continued.