A few years ago, Malibu Media was one of the most active 'copyright trolls' in the United States.
The California-based company behind the adult brand 'X-Art' filed thousands of lawsuits targeting Internet subscribers whose accounts were allegedly used to share Malibu's films via BitTorrent.
In recent years this activity ground to a halt, and in the cases that remained active, things didn't go to plan. After plenty of drama, Malibu was ordered to pay more than $100,000 to a wrongfully accused internet user in 2021.
Last Cases Standing
At the start of 2023, only two Malibu Media cases remain open. In one, the court denied a default judgment last summer, instructing the rightsholder to provide more evidence of infringement beyond a simple IP-address. After that, things went quiet.
In the other case, the accused file-sharer went on the offensive. The "John Doe" defendant filed a long list of counterclaims against Malibu Media, accusing the company of abuse of process and misuse of copyright, among other things.
"Plaintiff monetizes its alleged copyrights through coercive and needless litigation and by extracting settlements from that litigation disproportionate to the minimal value of Plaintiff's works," the defense wrote.
Corporate Status Suspended
The Doe defendant also asked the court to dismiss Malibu Media's claims, arguing that the company can't be involved in a lawsuit due to its corporate status. California's Franchise Tax Board suspended Malibu Media in 2021 over tax deficiencies.
"Plaintiff lacks the capacity to sue. Specifically, Plaintiff is suspended in its state of incorporation, California. Under California law, a suspended corporation cannot maintain a lawsuit," the defense wrote.
The suspension came to the forefront in 2021. The court initially allowed Malibu some time to get its paperwork in order to get the suspension lifted, but that doesn't appear to have happened. At the time of writing, California's Franchise Tax Board continues to list Malibu Media's status as suspended.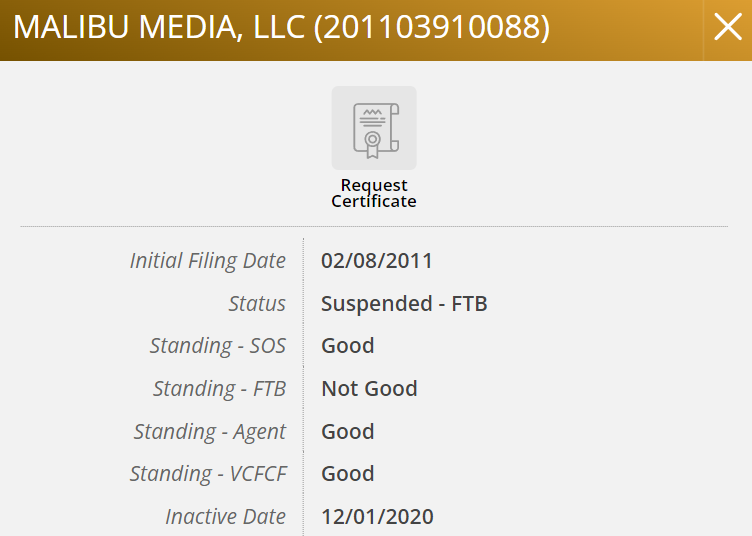 In a recent advisory to the court, Malibu Media confirms that its corporate powers are still suspended. However, it argues that courts have previously held that suspensions are a "mere technicality" that, once fixed, return a company's status "back to good standing".
Malibu sees no reason why the present case should not be able to proceed to trial due to a technicality.
Dismissal Looming
U.S. District Court Judge Ezra agrees that previously suspended companies successfully continued lawsuits, but only after their suspensions had been resolved. That's not the case here.
"Corporate status may be a 'mere technicality,' but courts in California and the Fifth Circuit only deem it so after the corporation has cured the defect in its corporate status," the order reads.
"Therefore, if Malibu Media's corporate status is not reinstated by Friday, January 20, 2023, the case will be dismissed without prejudice," Judge Ezra adds.
A dismissal "without prejudice" means that Malibu will be allowed to refile its claims after the suspension is lifted. Based on the lack of recent progress, it's doubtful that will happen anytime soon.
The underlying issues aren't entirely clear but Malibu CEO Colette Pelissier is no stranger to corporate troubles. Other companies under her control – Colette Productions, Colette Holdings and Colette Properties – are all listed as suspended.
The order issued by U.S. District Court Judge David Alan Ezra is available here (pdf)