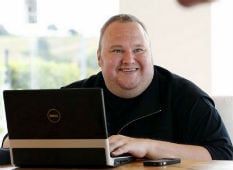 While today Kim Dotcom appears to be doing well financially, a little over two years ago the flamboyant businessman was enjoying an even more lavish lifestyle. In January 2012, however, the bulk of his millions in cash and assets were seized following a raid on his New Zealand mansion.
Two days before the raid on Dotcom's home, foreign restraining orders were granted to enable the seizure of the entrepreneur's assets. Those orders ran out earlier this month and fortunately for Dotcom an attempt by the Crown to have them extended was rejected by the High Court.
Within minutes Dotcom took to Twitter to celebrate the upcoming return of his property but now, just two weeks later and on the final day the Crown could launch an appeal, the Megaupload founder is being met with renewed resistance.
This fresh appeal by the Crown will almost certainly delay if not considerably hamper the return of Dotcom's property. It also means that the fledgling politician's supporters will have to wait for the return of his performance and classic car collection before he can make good on a promise to hire a local racetrack.