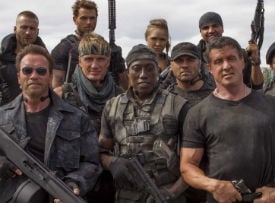 With a disappointing $16 million in earnings during the opening weekend, the box-office premiere of The Expendables 3 turned into a big flop.
Many insiders blame the pre-release leak of the film for the disappointing numbers. Millions of people have downloaded pirated copies and skipped the box office, they argue.
Over the past several weeks Lionsgate has countered the leak by sending tens of thousands of takedown requests. The movie studio even went as far as suing the operators of six websites that allegedly failed to remove the infringing files – Limetorrents.com, Billionuploads.com, Hulkfile.eu, Played.to, Swankshare.com and Dotsemper.com.
This pressure resulted in drastic actions at several of these sites. Faced with a preliminary injunction, cloud hosting service Hulkfile shut down its website, for example, and Swankshare did the same. LimeTorrents remained online, but removed all expendables torrents, including the trailers.
TorrentFreak spoke with the operator of the torrent site who says he installed a filter that blocks everything related to the Expendables franchise. He hoped that this would be enough to appease the movie studio, but thus far Lionsgate has no plans to back down without compensation.
In an email the movie studio's lawyer notes that the preliminary injunction stays in place. Interestingly, however, the torrent site operator is invited to discuss a potential settlement.
"Thanks for the email. As you know the court has entered a preliminary injunction, and the lawsuit is going to continue unless we can reach a settlement. I think it would be helpful to set up a time to talk by phone," Lionsgate's lawyer writes.
Whether Lionsgate is serious about settling or whether it merely wants to know more about the identity of Limetorrents' operator remains anyone's guess. It's very unlikely that the movie studio will settle for anything short of a few million dollars in damages, something the torrent site owner can't afford.
So for now, this means that the lawsuit is destined to drag on.
Yesterday LimeTorrents' domain registrar eNom had to hand over any information it has on the site's owner. With the domain name at risk LimeTorrents has decided to move its website to a new .CC domain name, where it will continue serving torrents, minus the Expendables.