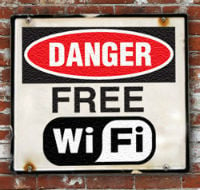 In addition to their obligations under the DMCA, in 2010 a new requirement was put in place which meant that university funding in the U.S. was placed in jeopardy if establishments didn't take their anti-piracy responsibilities seriously.
The policy hasn't been repeated in any other key countries in Europe or elsewhere, but that hasn't stopped educational institutions from introducing their own policies to deal with on-campus infringement. A particularly harsh example can be found in Australia.
The University of New South Wales, which is ranked among the top five universities in Australia, offers its students free Wi-Fi Internet access. Known as Uniwide, the system was upgraded last year to offer speeds of 1.3 Gigabits per second in order to cope with around 20,000 devices being regularly connected to the network.
With students achieving up to 10 megabits per second on their connections, it's perhaps no surprise that some use the Wi-Fi network for downloading movies, TV shows and other copyrighted content. In order to curtail the practice the university has put in place tough punishments for those who flout the rules.
While disconnections and up to $1,000 in fines are serious enough, it may come as a surprise that monies collected don't go to compensate artists. University of New South Wales pumps the money back into "student amenities" instead.
"I just find it disturbing that a university has decided how it will enforce the laws of the Commonwealth," Michael Speck, an independent anti-piracy investigator and former NSW policeman told The Age. "It's quite disturbing and without too much natural justice."
Adding fuel to the fire, two parties embroiled in the general piracy debate currently raging in Australia have also weighed in with their opinions.
Steve Dalby, chief regulatory officer of Internet provider iiNet, called the fines "very strange". The response from Dalby is predictable. The ISP famously refused to pass on infringement notices to its customers when prompted to by movie company Village Roadshow, a spat that took the pair to court.
On the other hand, comments from Graham Burke, co-chief executive of Village Roadshow, reveal that the rivals are still just as far apart in their views. Burke said it was "terrific" that the university was fining students and being "proactive and taking responsibility for the users of its network."
"We think it is more important for students to be educated about copyright by the university imposing these fines than it is for the rights holders to collect damages for the breaches that are occurring," Burke told The Age.
"In fact the more I think about it this action by the university is helping the future of good citizenship of its many students."
There can be little doubt that traditionally poor students would find themselves thinking deeply about copyright when landed with a $1,000 fine but whether that would put money back in the artists' pockets long-term is another matter.
Fortunately not too many WiFi users are falling foul of the rules. According to the university, three students and one staff member have received punishments this year. All had their access suspended and two of the students were fined $480 each.