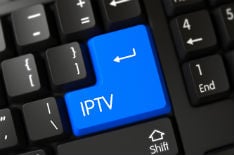 In April 2020, a coalition of entertainment companies led by Universal, Paramount, Columbia, Disney and Amazon filed a copyright infringement lawsuit against the operators of 'pirate' IPTV service Nitro TV.
The case, which encompassed alleged operator Alejandro "Alex" Galindo, wife Anna Galindo, and YouTuber 'Touchtone', is still ongoing but things haven't gone well for the defendants thus far.
Allegations of evidence destruction plus an injunction certainly put them on the back foot and a second lawsuit from broadcaster DISH Network didn't help either.
Filed in August 2021, the complaint targets Alex, Anna and Osvaldo Galindo. According to plaintiffs DISH, Sling and NagraStar, the defendants received millions of dollars in exchange for subscriptions to their pirate service.
Unlike the Hollywood complaint, the lawsuit did not allege direct or contributory copyright infringement but instead claimed violations of the DMCA's anti-circumvention provisions and breaches of the Federal Communications Act (FCA). These relate to the circumvention of Sling's DRM and unauthorized use of satellite signals respectively.
Defendants Were Served, Failed to Answer Complaint
Despite months passing since the complaint was filed, the defendants failed to respond in court, meaning that the case is now moving towards a significant default judgment in favor of the plaintiffs. The big question is exactly how much the defendants will be required to pay.
In a motion for default filed late last week, DISH and partners lay out their reasoning for a colossal damages award.
In respect of the alleged breaches of the FCA (improperly receiving communications for benefit), DISH claims that the defendants illegally received its broadcasts and then retransmitted them via the Nitro service to users, who paid Nitro for the privilege while DISH received nothing.
On the copyright front, DISH says that the DMCA prohibits a person from circumventing a technological measure that controls access to a protected work. Sling utilizes digital rights management (DRM) to protect its content from piracy but the complaint alleges that was defeated by the defendants, who distributed the acquired content via their Nitro TV service for profit.
The Question of Damages
DISH says that section 605(a) of the FCA allows them to recover statutory damages in the amount of $1,000 to $110,00 for each violation while section 605(e)(4) allows for $10,000 to $100,000 for each violation. Under the DMCA, each violation of section 1201(a)(1)(A) allows for statutory damages ranging from $200 to $2,500.
Since the court may not respond positively to claims at the top end of the scale, DISH is presenting its case relatively modestly. For example, for each breach of section 605(e)(4) it's only asking for $1,000 when it could request $100,000. However, it's the multiplier that matters here, i.e how many subscriptions Nitro sold. As it transpires, the IPTV service sold quite a lot.
Since the defendants didn't appear in the case, DISH and partners turned to Nitro's merchant service providers (PayPal, Stripe, Zelle, Square, and Cash App) and other financial institutions to provide information. Those records show that the defendants sold more than 100,000 subscriptions, referenced in the complaint as 'device codes'.
Plaintiffs Demand $100 Million in Damages
"The account records provided to Plaintiffs show that Defendants sold at least 100,363 Device Codes. Therefore, statutory damages should be awarded in the amount of $100,363,000 (100,363x $1,000), jointly and severally against Defendants," the motion for default reads.
While that's certainly an eye-watering figure, DISH says that its requested damages are conservative. The defendants also received subscription payments via Facebook Pay, Coinbase, and Paymentech but these were not included in the claim since the plaintiffs couldn't determine exactly how many subscriptions were involved.
What they could establish is the amount of money Alejandro and Martha Galindo received into their bank accounts – a total of $5.5 million across two accounts at Wells Fargo and Chase.
DISH further explains why its $100m damages claim is reasonable, noting that enhanced statutory damages are available in this matter due to the for-profit motive and the stated aim to convert legal customers into subscription pirates at Nitro. The plaintiffs also cite the Hollywood lawsuit as demonstrating the defendants' broader involvement with TV piracy.
Finally, DISH and the other plaintiffs say that they are not claiming the attorney's fees or costs they are entitled to under the DMCA and FCA. All they want is a judgment for $100.36 million and a broad permanent injunction against the defendants.
The motion for default can be found here (pdf)