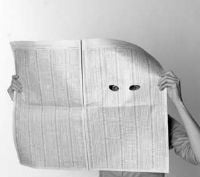 In the early 2000s, when peer-to-peer (P2P) file-sharing was in its infancy, the majority of users had no idea that their activities could be monitored by outsiders. The reality was very different, however.
As few as they were, all of the major networks were completely open, with most operating a 'shared folder' type system that allowed any network participant to see exactly what another user was sharing. Nevertheless, with little to no oversight, file-sharing at least felt like a somewhat private affair.
As user volumes began to swell, software such as KaZaA (which utilized the FastTrack network) and eDonkey2000 (eD2k network) attracted attention from record labels, who were desperate to stop the unlicensed sharing of copyrighted content. The same held true for the BitTorrent networks that arrived on the scene a couple of years later.
Through the rise of lawsuits against consumers, the general public began to learn that their activities on P2P networks were not secret and they were being watched for some, if not all, of the time by copyright holders. Little did they know, however, that a much bigger player was also keeping a watchful eye.
According to a fascinating document just released by The Intercept as part of the Edward Snowden leaks, the National Security Agency (NSA) showed a keen interest in trying to penetrate early P2P networks.
Initially published by internal NSA news site SIDToday in June 2005, the document lays out the aims of a program called FAVA – File-Sharing Analysis and Vulnerability Assessment.
"One question that naturally arises after identifying file-sharing traffic is whether or not there is anything of intelligence value in this traffic," the NSA document begins.
"By searching our collection databases, it is clear that many targets are using popular file sharing applications; but if they are merely sharing the latest release of their favorite pop star, this traffic is of dubious value (no offense to Britney Spears intended)."
Indeed, the vast majority of users of these early networks were only been interested in sharing relatively small music files, which were somewhat easy to manage given the bandwidth limitations of the day. However, the NSA still wanted to know what was happening on a broader scale, so that meant decoding their somewhat limited encryption.
"As many of the applications, such as KaZaA for example, encrypt their traffic, we first had to decrypt the traffic before we could begin to parse the messages. We have developed the capability to decrypt and decode both KaZaA and eDonkey traffic to determine which files are being shared, and what queries are being performed," the NSA document reveals.
Most progress appears to have been made against KaZaA, with the NSA revealing the use of tools to parse out registry entries on users' hard drives. This information gave up users' email addresses, country codes, user names, the location of their stored files, plus a list of recent searches.
This gave the NSA the ability to look deeper into user behavior, which revealed some P2P users going beyond searches for basic run-of-the-mill multimedia content.
"[We] have discovered that our targets are using P2P systems to search for and share files which are at the very least somewhat surprising — not simply harmless music and movie files. With more widespread adoption, these tools will allow us to regularly assimilate data which previously had been passed over; giving us a more complete picture of our targets and their activities," the document adds.
Today, more than 12 years later, with KaZaA long dead and eDonkey barely alive, scanning early pirate activities might seem a distant act. However, there's little doubt that similar programs remain active today. Even in 2005, the FAVA program had lofty ambitions, targeting other networks and protocols including DirectConnect, Freenet, Gnutella, Gnutella2, JoltID, MSN Messenger, Windows Messenger and……BitTorrent.
"If you have a target using any of these applications or using some other application which might fall into the P2P category, please contact us," the NSA document urges staff. "We would be more than happy to help."
Confirming the continued interest in BitTorrent, The Intercept has published a couple of further documents which deal with the protocol directly.
The first details an NSA program called GRIMPLATE, which aimed to study how Department of Defense employees were using BitTorrent and whether that constituted a risk.
The second relates to P2P research carried out by Britain's GCHQ spy agency. It details DIRTY RAT, a web application which gave the government to "the capability to identify users sharing/downloading files of interest on the eMule (Kademlia) and BitTorrent networks."
The SIDToday document detailing the FAVA program can be viewed here