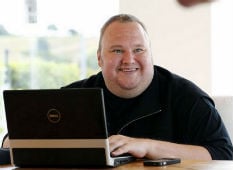 On 19 January 2012, the United States Department of Justice seized and shutdown Megaupload, a massive cloud-storage site founded by Kim Dotcom.
On the same day, Dotcom and several of his associates were arrested in New Zealand in a military-style raid on his rented mansion, carried out at the behest of US authorities. Ever since, the United States justice system has fought tooth and nail to have Dotcom, Mathias Ortmann, Finn Batato and Bram van der Kolk extradited. That has proven difficult, to say the least.
Unstoppable Force Meets Immovable Object
Whether US or New Zealand authorities expected a monumental fightback from their targets is unknown. But that is exactly what they got. Rather than backing down, Dotcom's defense team hasn't given an inch, with every substantial claim challenged in minute detail, and every counterclaim met with the same determination.
As a result, New Zealand's courts have been kept busy for more than nine years, expending resources on several cases – many involving extradition matters – that are still not over. But while the outcome of this entire process remains uncertain, there can be no doubt over the scale of financial resources poured into the prosecution of Kim Dotcom.
Until now, only estimates of the true costs involved have been aired in public but thanks to an Official Information Act request and data published by NZ Herald (paywall), the cost to New Zeland's taxpayers thus far are now up for scrutiny.
New Zealand's Bill is Substantial and Growing
Earlier estimates of a few thousand hours spent on various Dotcom-related cases seemed to be within reason. However, the latest published figures show that government lawyers have already spent 40,500 hours working on these cases over the past decade. Or, as NZ Herald frames it, if the lawyers had been working 40-hour weeks, the effort exerted would be 19 years and six months.
Worryingly, that's not the entire financial picture either. The data shows that on top of the 40,500 hours of government lawyer time, extra costs including external legal work, airfares, and general administration, account for an additional NZ$3.6 million (US$2.6 million) in expenditure.
Allocation of Legal Resources
Government spending on the Megaupload matter reportedly began before Dotcom was even arrested. In preparing the case against him, Crown Law – the office that provides legal advice and representation services to the government – had already spent 432 hours working on the case. Then in 2012, 2013, and 2014, more than 7,000 hours were expended each year dealing with the fallout.
And the fallout has been huge. Dotcom's cases have expanded into an interconnected web of complex processes, dealing with matters such as illegal spying by government agencies through to the extradition case itself. In 2011, Crown Law was prepared for two proceedings. Since then the tally has grown to almost two dozen.
Goliath versus…Goliath?
That a wealthy Pacific nation can afford to continue with expensive litigation over the course of a decade shouldn't be a surprise but the fact that it is effectively up against the determination and resources of one man should be pause for thought.
Kim Dotcom has occasionally hinted at the scale of his legal bills since 2012, suggesting that they run into the tens of millions of dollars. How he has been managing to pay those bills after the authorities reportedly seized most of his assets isn't completely clear but as recently as 2015, he was apparently "broke and destitute" and begging the courts for seized assets to be released.
Since then there has been little sign that Dotcom is struggling for cash, with his luxury lifestyle often portrayed on Twitter to the envy of many followers. How much he has spent on lawyers since 2012 isn't revealed in the latest data but according to NZ Herald's analysis, matching the New Zealand government's expenditure would've cost Dotcom around NZ$25 million (US$18 million).
Not Over Yet
While Crown Law initially seemed somewhat unprepared for the expansive battle that eventually panned out, the office will have by now got the message that Dotcom isn't one to back down. Despite all of the money spent on both sides to date, Dotcom is still entrenched in New Zealand and most probably will remain that way for years to come.
Meanwhile, Dotcom is as defiant as ever – both in court and on Twitter, of course.
40,000 hours wasted on this novel bullshit case which makes New Zealand look like an obedient colonial appendix defecating on their own rule of law in exchange for some "brownie points". Embarrassingly dependent and spineless. But at least I don't get Covid in New Zealand ?

— Kim Dotcom (@KimDotcom) February 16, 2021