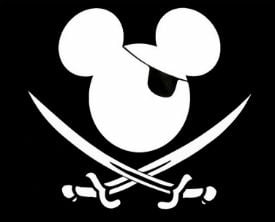 In common with other countries attempting to reduce their movie and TV show piracy problem, India has provisions in copyright law that allow rightsholders to limit access to pirate sites.
Disney has utilized this mechanism to compel ISPs to block subscriber access to pirate sites and has also obtained so-called 'dynamic' injunctions that allow new circumvention domains to be blocked too.
But despite all of these actions, pirates and pirate site operators often tend to be one or two steps ahead so, in some cases, rightsholders like Disney choose to file criminal complaints instead.
Disney Star Targets Several Piracy Platforms
As a wholly-owned subsidiary of The Walt Disney Company, Disney Star shares its parent company's concerns over rampant piracy in India. So, in order to combat the threat at the street level, it is now seeking help from the authorities to dismantle several piracy platforms.
Reports indicate that four well-known piracy brands have been reported to the police – the infamous Tamil Rockers, Tamil Blasters, and Tamil MV, plus popular mobile application Pikashow.
The content distributed by these services is often obtained from theater camcorder recordings, official OTT platforms, and ther pirate sites, and then distributed via torrents, third-party file-hosting platforms, and dedicated servers.
Criminal Complaint Targets Popular Piracy Resources
Disney Star noticed that several of its Hotstar Specials were being illegally distributed by several of the targeted sites. Live TV content culled from its Star Plus, Star Gold, Star World, and Star Sports channels appeared on the Pikashow application.
The Disney-owned company then tried to register a criminal case with the Tamil Nadu cyber cell, IndianTelevision reports, but when that was unsuccessful, a decision was made to file a complaint with the Bengaluru cyber cell. That switch has proven more effective.
Disney Star has successfully registered a First Information Report (FIR) detailing alleged offenses under several laws, as follows:
Information Technology Act 2008 (Section 66): This section has its roots in Section 43 which relates to 'Penalty and Compensation for damage to computer, computer system'. In part, this makes it an offense for anyone to download, copy or extract any data from a computer system or network without obtaining permission from the owner.
Section 66 clarifies that if this is done dishonestly or fraudulently, a fine or prison sentence is available (pdf).
Copyright Act 1957 (Section 63 and 65): Under Section 63, any person who knowingly infringes or abets the infringement of copyright in any work commits a criminal offense. Section 65 lays out that punishments for possession of tools for the purpose of making infringing copies of any copyrighted work can be fines or a prison sentence.
Indian Penal Code (Section 420): Cheating and dishonestly inducing delivery of property can result in a fine or a prison sentence of up to seven years.
Complaint Confirmed, Two People Named
According to a copy of the Disney Star report viewed by IndianTelevision, two people (R Kumaravel and R Radhakrishnan) are personally named in the complaint, with the former an alleged resident of the Yelahanka suburb of Bengaluru city. The registration of the complaint was confirmed by Santosh Ram, station officer at the Bengaluru Police.
"The cumulative traffic on these platforms is estimated at 62 million. They mostly offer Tamil, Telugu, and Malayalam content, which is leaked on their websites," Ram said.
"Of late, they have been offering content in other languages, including Hindi. The FIR has been registered by Disney Star. We are investigating the matter."