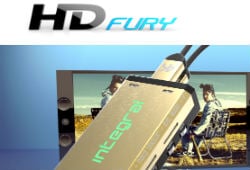 Late last year several pirated copies of 4K videos started to leak from both Netflix and Amazon. These leaks were unusual as online 4k streams were always well protected against pirates.
While it's still not clear how these videos were copied, several sources suggested that one of LegendSky's latest HDFury devices may have been involved.
These suspicions were corroborated a few weeks ago when Warner Bros. and Intel daughter company Digital Content Protection (DCP) sued the HDFury manufacturer over its ability to "strip" the latest HDCP encryption.
The Chinese hardware manufacturer refutes this claim and has pointed out that its tools merely allow users to convert HDCP encryption, which would be fair use and permitted by law.
While the case continues in court, a pirate group has stepped up to add some fuel to the fire. In an NFO file packaged with a recent release of the Netflix film "Pee-wee's Big Holiday," Scene group 'Team QCF' thanks HDFury while describing it as one of its sponsors.
"We like to give a shout out to our sponsors without them this is not possible :p," the NFO file reads, linking to the controversial HDFury 4k splitter.
While the release in question is 1080p, the controversial hardware makes it possible to use a 4K source to get a better encode.
The nfo
In addition, Gatorade also gets a plug. "Drink Gatorade it will help your encodes," the NFO file adds, linking to the Gatorade website.
Team QCF doesn't normally list any sponsors, and it's pretty unlikely that HDFury or Gatorade have intentionally contributed to the Scene group. However, the wink to HDFury suggests that the devices are indeed used to rip 4K content from Netflix.
At least, the group felt the urge to respond to the recent controversy over the HDFury devices.
It is doubtful that the "endorsement" will be featured in court though. As an anonymous source, Team QCF may just as well be putting up a smokescreen for fun, or perhaps to divert attention from another vulnerability.
That said, LegendSky is probably going to be unhappy with the fact that their HDFury devices are now openly being plugged by a well-known Scene group.