In many countries around the world people are falling foul of laws originally penned for the analog world, but which are now being applied to a rapidly developing digital landscape. In the sphere of file-sharing and digital media the effect is particularly pronounced, as a teenager from the Czech Republic has found to his peril.
The 16-year-old from Liberec was accused by the Czech Anti-Piracy Union of posting links to infringing material on his website, acts which the Union claim have caused damages of more than 5 million euros.
"By bullying young people, the Czech Anti-Piracy Union, with the help of the state, is attempting in vain to salvage the old business model which has ceased to function in the age of the Internet," say the Czech Pirate Party.
Although the party believes that under Czech law the acts of the teenager do not constitute an offense, the issue is yet to be tested properly in court. So, in true pirate style, the party has embarked upon a huge provocation to draw attention to both the teenager's plight and the legal situation.
Under the slogan "linking is not a crime" the Czech Pirate Party and project coordinator Zdenek Slezak have launched movie download site Tipnafilm.cz. The site has an attractive layout with movie covers, links to reviews on sites such as iMDb and embedded trailers.
It also provides – crucially – links to where the movies can be downloaded, all sorted by quality and download portal.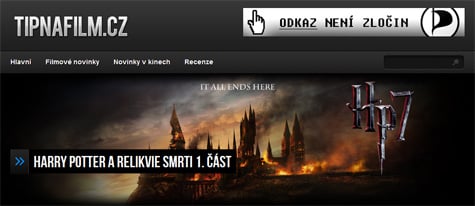 The project, which is strictly non-commercial, is the second such venture by the Czech Pirates. Earlier this month they launched Piratskefilmy.cz, a site which carries 20,000 links to more than 5,800 movies.
According to the party's Vice-President Mikuláš Ferjencik, both acts are deliberately provocative.
"Yes, we unequivocally declare open war on the Anti-Piracy Union. Bullying ordinary people from their side must stop. The Czech Anti-Piracy Union claimed a huge success when it caught the 'greatest pirate in the country'. But that is absurd, in fact he was just a small fish.
"For this student we have built and launched a similar site. The difference is that there are ten times more links on our site," Ferjencik told TorrentFreak this morning.
"We denounce that the police should be run by the propaganda of the Anti-Piracy Union and that it should harass anybody who puts a video on his/her web page or Facebook page," said chairman of the Czech Pirates Ivan Bartoš.
"We challenge the Anti-Piracy Union to stop bullying the under-aged and to aim its preposterous claims at the Pirate Party."
Mikuláš Ferjencik told us that he finds it interesting that thus far the Czech Anti-Piracy Union have not yet made a formal statement about the launch of either site, noting only that they "do not want to reveal [their] strategy going forward."