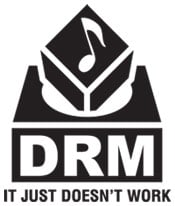 Digital Rights Management (DRM) is viewed by copyright holders as an essential mechanisim to prevent the public from copying and distributing copyrighted content.
While to some extent it can achieve those aims, DRM is often viewed as preventing those who actually buy content from carrying out tasks such as format shifting or making backups. Those who obtain content from illegal sources aren't affected by DRM, critics argue.
Like any other anti-piracy measure, DRM's task is to prevent copying and many countries have laws in place which prevent citizens from circumventing it. This can be problematic, particularly when DRM stands in the way of a citizen's right to copy, in fair use instances for example. This has been in the case in Portugal since 2004.
As a result, the DRM-PT movement in Portugal has been campaigning for a change in the law which would restrict the use of DRM and grant citizens a circumvention right when certain conditions are met. When parliament approved a draft bill last week, the country moved closer to that goal.
The bill, which received general approval last December, tackles the main issues head-on by granting copying permission in some circumstances and by flat-out banning the use of DRM when the public should have right of access to a copyrighted work.
In a boost to educators, citizens will be given the right to circumvent DRM for teaching and scientific research purposes. There will also be an exception for private copying.
The draft also outlaws the use of DRM on copyright works that have fallen into the public domain, works which support cultural heritage, and works that were created by public entities or funded with public money.
The move is being welcomed by ANSOL and the Free Teaching Association, which thanked the politicians who supported the bill, noting that their work will "ensure that citizens can finally exercise their fundamental rights in respect of DRM-protected works."
The bill (pdf, Portuguese) must now be approved by the president before being passed into law.