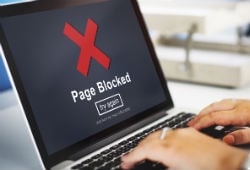 Over the past several years, Russia has become something of a world leader when it comes to website blocking. Tens of thousands of websites are now blocked in the country on copyright infringement and a wide range of other grounds.
With circumvention technologies such as VPNs, however, Russian citizens are able to access blocked sites, a position that has irritated Russian authorities who are determined to control what information citizens are allowed to access.
After working on new legislation for some time, late July President Vladimir Putin signed a new law which requires local telecoms watchdog Rozcomnadzor to maintain a list of banned domains while identifying sites, services, and software that provide access to them.
Rozcomnadzor is required to contact the operators of such services with a request for them to block banned resources. If they do not, then they themselves will become blocked. In addition, search engines are also required to remove blocked resources from their search results, in order to discourage people from accessing them.
With compliance now a matter of law, attention has turned to how search engines can implement the required mechanisms. This week Roskomnadzor hosted a meeting with representatives of the largest Russian search engines including Yandex, Sputnik, Search Mail.ru, where this topic was top of the agenda.
Since failure to comply can result in a fine of around $12,000 per breach, search companies have a vested interest in the systems working well against not only pirate sites, but also mirrors and anonymization tools that provide access to them.
"During the meeting, a consolidated position on the implementation of new legislative requirements was developed," Rozcomnadzor reports.
"It was determined that the list of blocked resources to be removed from search results will be transferred to the operators of search engines in an automated process."
While sending over lists of domains directly to search engines probably isn't that groundbreaking, Rozcomnadzor wants to ensure that companies like Yandex are also responding to the removal requests properly.
So, instead of simply carrying out test searches itself, it's been agreed that the watchdog will gain direct access to the search engines' systems, so that direct verification can take place.
"In addition, preliminary agreements have been reached that the verification of the enforcement of the law by the search engines will be carried out through the interaction of the information systems of Roskomnadzor and the operators of search engines," Rozcomnadzor reports.
Time for search engines to come into full compliance is ticking away. The law requiring them to remove listings for 'pirate' mirror sites comes into effect October 1. Exactly a month later on November 1, VPNs and anonymization tools will have to be removed too, if they fail to meet the standards required under state regulation.
Part of that regulation requires anonymization services to disclose the identities of their owners to the government.