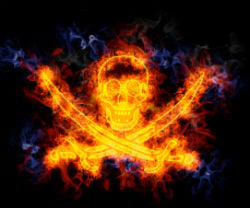 For several decades, The Scene has been the main source of all pirated content made available on the Internet.
Technically, release groups operate in a closed ecosystem, but the reality is different. The vast majority of the files published on private Scene servers eventually find their way to public pirate sites.
Feds Bust SPARKS Group
The secretive nature of the Scene has been a major challenge for law enforcement but last summer the US Department of Justice had a major breakthrough. Following a thorough investigation, three men connected to the illustrious SPARKS group were indicted.
One of the defendants, a British man named George Bridi, was arrested in Cyprus on an Interpol Red Notice. After an extradition process that took nearly a year, he was eventually extradited to the United States to face criminal charges.
Bridi Pleads Guilty
During a hearing before Judge Richard M. Berman yesterday, the 52-year-old pleaded guilty to criminal copyright infringement for his role in the SPARKS conspiracy. This could result in a maximum prison sentence of five years, as well as a hefty monetary fine.
Among other things, Bridi admitted to conspiring with a member of the SPARKS group. He obtained pre-release Blu-ray discs from a distributors in New York, several weeks before their retail release dates.
Before the court, Bridi stated that he only had contact with one member of the SPARKS group. He didn't see himself as being part of the group. During the hearing, his attorney Louis Freeman further stressed that there was no profit motive involved.
Initially, Bridi didn't realize that he was engaging in illegal activities. However, during his involvement, which began in 2013, this eventually became clear.
Winning the Race
During the hearing, there was some confusion about the motivation behind the piracy scheme. Bridi said that he initially got involved when he was out of a job. The work he did for SPARKS relieved the boredom and made him feel important. He didn't care about the movies at all, it was all about the battle with other Scene groups
"It became like a race, we had to win because there were other groups buying from the same distributor," Bridi said, explaining his involvement.
For outsiders, this "race" appears to be an alien concept, especially when there are crimes involved. However, the now 52-year-old Brit kept going and said he bought roughly 500 pre-release films, noting that not all these these "won" races.
iCloud and other Evidence
The prosecution noted that if the case would have gone to trial, there is sufficient evidence for a conviction. This includes witness testimony, evidence from Bridi's Apple iCloud account, and purchase records from a distributor that listed his real name.
U.S. Attorney Damian Williams is pleased with the guilty plea. In a press statement, he notes that the SPARKS conspiracy caused tens of millions of dollars in losses to film production studios.
"As he admitted in court today, George Bridi participated in an international video piracy ring that illegally distributed worldwide on the Internet nearly every movie released by major production studios, as well as television shows.
"Bridi circumvented copyright protections on DVDs and Blu-Ray discs to illegally share movies online, but he and his crew could not evade law enforcement scrutiny, and Bridi now awaits sentencing for his crime," U.S. Attorney Williams added.
Sentence Early Next Year
Bridi is scheduled to be sentenced in January 2022. While there are no guarantees, his cooperative stance will likely result in a lower sentence than the five-year maximum. The plea agreement lists a guideline of 23 to 37 months.
This is the second guilty plea in the SPARKS case. Previously, Kansas resident Jonatan Correa did the same, which resulted in a sentence of time served and 27 months of supervised release.
The third defendant, Norway resident Umar Ahmad a.k.a. "Artist", has yet to appear in court. Whether he's been located yet is unclear.