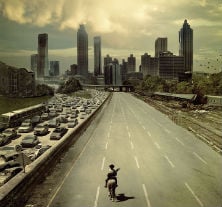 A few years ago the tag PREAIR was more common than it is nowadays. The tag is used on P2P and Scene releases to indicate that a TV-show has found its way onto the Internet before the episode appears on TV.
At one point during the summer of 2007 a massive 8 new episodes were released with a PREAIR tag in just one week, including hit series such as Dexter, Weeds and Chuck.
In recent years, however, PREAIR releases have become a rarity. Before the start of the fall season of 2010, the only notable PREAIR leak was a Weeds episode.
Despite this declining trend, there are still a few notable releases that are worth mentioning, such as the premiere episode of The Walking Dead that surfaced online yesterday. The new series is written and produced by three-time Academy Award-nominee Frank Darabont, known for films such as The Shawshank Redemption and The Green Mile.
The Walking Dead is based on the similarly named comic book and tells the story of a group of survivors after a zombie apocalypse.
The series will officially premiere in the US on the AMC network on October 31, but already thousands of people have downloaded the file online. According to most of the 'amateur' reviews we've read the quality isn't all that great, but good enough to watch. Content wise there were few complaints.
AMC hasn't officially responded to the leaks thus far, but we doubt that they will be bothered too much by the free publicity. It is often suggested that some of these leaks might even be intentional, that broadcasters use them to hype the show just before the season starts. Although this is often impossible to confirm, it would not be the first time that this has happened.
In 2007, a Warner Bros executive admitted that he helped to leak the pilot of 'Pushing Daisies'. The exec wanted to make sure the show "got out there," and said his goal was to "help the cause." He didn't upload it himself though, but used his neighbor's kid to do it instead.
The leak of The Walking Dead premiere, whether intentional or not, is guaranteed to boost the show's momentum through word of mouth promotion. If anything it will help the show, rather than hurt it.
The Walking Dead Trailer