Internet filters are now on the political agenda in many countries around the world.
While China and Iran are frontrunners for political censorship, the UK is leading the way when it comes to porn and other types of adult content.
All mobile Internet providers are currently complying with a voluntary code of practice to make adult content inaccessible on their networks by default. Subscribers then have the option to lift the block if they can verify that they are at least 18 years old.
However, mobile filtering alone is not enough to protect the children. Last month Prime Minister David Cameron announced a default filter for all Internet connections. This means that in the near future UK Internet subscribers will be required to opt-in if they want to view adult content online.
After the news broke the Open Rights Group warned that this new filter could also block other content too, including anonymizing services such as VPNs. And indeed, it now appears that this worry isn't as far-fetched as some thought.
TorrentFreak has learned that VPN service providers iPredator is already blocked under the "adult filter" of some, if not all, mobile providers. TorrentFreak has seen communication between the mobile provider GiffGaff and iPredator which makes it clear that the VPN's website is blocked because it allows kids to bypass the age restrictions.
"[…] websites or services that offer, inter alia, a method for younger members to access over 18 content, without age verification; such as VPN services, are blocked […]," the provider explained.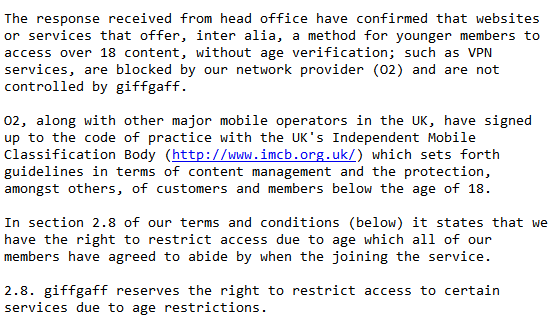 GiffGaff claims that they can't change anything in the filter's settings since they use O2's network and referred to the Independent Mobile Classification Body (IMCB) for further details. TorrentFreak contacted IMCB for a comment on the issue last week, but they are yet to respond.
Based on the above it is safe to say that censorship is a slippery slope, especially without any oversight. VPNs are used for numerous purposes and bypassing age restrictions is certainly not the most popular one. If this holds up then proxy services and even Google's cache may soon be banned under the same guise.
Earlier today news broke that Australia may soon be confronted with an equally restricted Internet. The opposition, which is likely to form the new Government, has put forward a proposal to start filtering adult content on both mobile networks and fixed access Internet lines.
Inspired by the UK, the goal of these filters is to protect children from harmful content.
"As has recently been achieved in the UK, we expect these standards will involve the major internet service providers providing home network filters for all new home broadband services, which will be switched on as the default unless the customer specifies otherwise," the proposal reads.
Interestingly, the coalition quickly distanced itself from the plan once it hit the news. The proposal was deleted and statements Liberal MP Paul Fletcher made to ZDNet were swiftly characterized as non policy.
So it appears that Australia may escape mandatory Internet filters, for now at least.
The UK example, however, begs the question how effective these blocklists are to begin with, and how broad they have to be to reach their goal. If a kid is smart enough to go to a VPN provider in order to unblock content, he or she clearly doesn't want to be protected.
As we have seen time and time again with piracy-related website blockades, those who want to circumvent blocked content on the Internet will find a way. Unless you take down the entire Internet of course. That might just work.