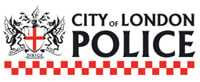 Over the past year City of London Police have been working together with the music and movie industries to tackle sites that provide unauthorized access to copyrighted content.
The police started by sending warning letters to site owners, asking them to go legit or shut down. Late last year this was followed by a campaign targeted at domain registrars, asking them to suspend the domain names of several so-called pirate sites.
Two weeks ago police began the latest initiative in "Operation Creative," a partnership with online advertising companies to replace ads on suspected pirate sites with police banners. The banners in question inform users that the site they're browsing has been reported to the authorities.
Police banner
Until now little was known about the scope of the anti-piracy initiative, but a Freedom of Information (FOI) request TorrentFreak sent to the police reveals some additional details.
In total, 74 domain names are being targeted by the advertisement hijacking effort. All of these domains have been reported to the police by copyright holder groups. Unfortunately, however, our request to get a full list of the affected domains was rejected.
While the police recognize that the public has a legitimate interest in knowing which sites are being targeted, it believes that the possible negative consequences of the disclosure weigh stronger. They fear that the list of domains could prove useful to pirates and increase traffic to the sites in question.
"This is an ongoing investigation and disclosure to the public domain would raise the profile of those sites unlawfully providing copyright material. This would enable individuals to visit the sites highlighted and unlawfully download copyright material and increase the scale of the loss," City of London Police inform us.
The FOI request further reveals that 83 advertising companies are currently participating in the effort to target ads on pirate sites. All these companies are UK-based or have a UK office, but many are multinationals and have a presence in the US and elsewhere too.
As with the domain names, the police also refused to share the names of their advertising company partners. The police fear that publishing the names of the companies could result in cyber-attacks.
"In the case of advertisers, public identification would increase the risk of harm to them by way of cyber attack or other means," TorrentFreak was told.
A FOI request TorrentFreak sent previously also revealed more details on the other "Operation Creative" efforts. It showed that City of London Police has warned 107 websites since its launch last year, and sent out suspension requests for 75 domain names.
The domain name suspension efforts were not particularly effective as only five of these were granted. The other 70 requests were denied by domain registrars.
Whether the ad hijacking campaign will have much effect is doubtful too. Thus far there haven't been any reports from users who have spotted these warning banners in the wild.