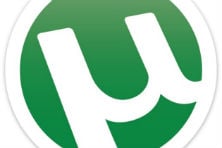 With millions of new downloads per month uTorrent is without doubt the most used BitTorrent client around.
The software is the main source of revenue for the San Francisco based company BitTorrent Inc. and generates income through advertisements and bundled software.
The latter now appears to be causing trouble as several anti-virus vendors have begun listing uTorrent as a security risk. The scanning result below from VirusTotal shows that at least six anti-virus applications, including ESET and Symantec, have flagged the software as problematic.
The anti-virus scans associate the uTorrent.exe file with Trojan.Win32.Generic!BT and the controversial OpenCandy bundling software. While this isn't the first time that uTorrent has been flagged in this manner, we haven't seen it being reported by this many independent tests before.
uTorrent's Virustotal results
In addition to action by the anti-virus companies, uTorrent is also being blocked by Google in several ways. When attempting to download the latest stable release of the torrent client, Chrome flags the software as malicious and blocks the download, although this only appears to happen sporadically.
Google is also actively blocking several pages that link to uTorrent and other BitTorrent Inc. software. According to Google, parts of the uTorrent website contain "harmful programs."
uTorrent.com warning in Chrome
The same "harmful software" warning from Google also prevented millions of people from accessing popular torrent sites earlier this month.
A Google spokesperson informed us that this was the result of the company's increased efforts to block programs that make "unexpected changes" to people's computers.
"Google Safe Browsing's ability to detect deceptive software has steadily improved," the company explained in a recent blog post.
"In the coming weeks, these detection improvements will become more noticeable in Chrome: users will see more warnings about unwanted software than ever before," Google adds.
These and the other uTorrent threat reports all seem to be triggered by bundled third-party software bundled. There is no indication or evidence that the BitTorrent client itself is harmful.
Update: BitTorrent Inc's Jordy Berson provided the following comment.
"BitTorrent's products are developed in a secure environment, are securely signed and virus scanned. Our safety record has been consistently good. We are very conservative with partner ads and offers, using a small subset of available offers that are subject to our security and suitability tests.
Meanwhile, security vendors and browser security teams have the difficult task of tuning their heuristics and their block lists to catch offenders without implicating harmless software. The increase in false positives in recent months is a result of security companies becoming more aggressive with their tuning in the category of "potentially unwanted programs." The issue is not unique to uTorrent, and we and other desktop software companies report false positives when they are spotted, with excellent cooperation from most security vendors.
We have stated this to our users for some time in the support section of our Web site, located here."