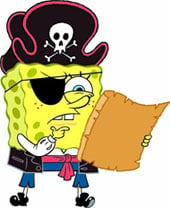 Nickelodeon is perhaps one of the world's most recognizable brands when it comes to children's entertainment. Its shows reach all corners of the globe and with characters such as SpongeBob Squarepants its a firm fan favorite with the younger generation.
A website that has clearly spotted the potential of exploiting of Nicklodeon's content is Nick Reboot. Founded in 2012, NickReboot.com offers 24/7 live streaming of classic Nickelodeon TV shows from the 1990s and 2000s. Once on the site viewers are immediately confronted with a random Nick show playing alongside a chatbox.
"We air shows (both cartoons and live action) from the 90s and early 2000s that were shown on the United States Nickelodeon TV channel during that time (we also show some 80s content as well). This includes syndicated programming, original programming, station IDs, bumpers, and commercials," the site explains.
"Shows are aired live and in random order, meaning that you are seeing what everyone else is seeing – just like live TV. There is no schedule set for when shows will be played."
Free service aside, however, the site also offers a subscription service to those who don't like the random order in which shows are played.
"Nick Reboot On Demand lets you watch what you want, when you want. Choose from our extensive library of shows, movies, and specials and re-live your childhood on your own schedule," the site explains.
The site's offers, both free and paid, have not gone unnoticed by Viacom. The media giant has just filed a lawsuit at United States District Court in California claiming not only copyright and trademark infringement but also cyber-squatting and unfair competition.
"Viacom, which owns the copyrights and trademarks in Viacom content,
including content airing on the Nickelodeon networks, never authorized Defendants' use of Viacom's copyrighted content or any Nickelodeon trademarks on the [Nickreboot.com] website. Viacom therefore brings this action to prevent the
continued willful infringement of its copyrights and trademarks," the complaint reads.
"[Nickreboot.com] offers paid on-demand viewing to subscribers at the following price options: (a) $3.99 per month; (b) $9.99 for three months; (c) $19.99 for six months; and (d) $35.99 for one year. The [Nickreboot.com] website also accepts donations and offers extended site features for members who donate."
Viacom says that the NickReboot website is operated out of San Diego and is causing damage to a business which currently reaches "more than 550 million households across approximately 140 territories" with products such as Yu-Gi-Oh!, Digimon, Power Rangers, Invader Zim and SpongeBob SquarePants.
In its complaint Viacom concedes it does not know the names of the John Does 1-5 targeted in its lawsuit but believes that the discovery process will reveal their true identities. First, the website's registration details are currently obscured by the Whoisguard privacy service. Second, several payment processors and service providers also deal with the site.
Viacom want to compel these companies to give up the information they have on file so that action can be taken on several fronts.
Copyright and trademarks
"Viacom is informed and believes and on that basis alleges that Defendants are fully aware of Viacom's exclusive rights, and have infringed Viacom's rights willfully, maliciously and with wanton disregard," the complaint notes, adding the company will seek the maximum statutory damages, actual damages and attorneys' fees.
Next, Viacom wants to be compensated for abuse of its trademarks since Nick Reboot demonstrates "an intentional, willful, and malicious intent" to trade on the goodwill associated with Viacom's IP.
"Defendants' use of confusingly similar imitations of Viacom's Nickelodeon Marks is likely to cause confusion, deception, and mistake by creating the false and misleading impression that Defendants' pirated Viacom Works are produced, distributed, endorsed, sponsored, approved, or licensed by Viacom, or are associated or connected with Viacom," the complaint reads.
"Defendants have caused and are likely to continue causing substantial injury to the public and to Viacom, and Viacom is entitled to injunctive relief and to recover Defendants' profits, actual damages,enhanced profits and damages, costs, and reasonable attorneys' fees."
Cybersquatting
Viacom's legal team states that the selection of the NickReboot.com domain name constitutes a deliberate effort to trade on the goodwill of Nickelodeon and cause confusion among the brand's customers.
"Defendants registered the [Nickreboot.com] domain name, which fully incorporates the NICK word mark and is confusingly similar to the Nickelodeon Marks, with a bad faith intent to profit from the Nickelodeon Marks and the consequent confusion of Internet users without any reasonable grounds to believe that Defendants' use and registration of the [Nickreboot.com] domain name was fair," the company adds.
"In addition to costs and injunctive relief, Viacom is entitled to an order directing Defendants to forfeit the [Nickreboot.com] domain name and to transfer it to Viacom, and awarding Viacom statutory damages under 15U.S.C. § 1117(d)."
The media giant rounds off its complaint with a wave of claims based in unfair competition law. Viacom requests a permanent injunction to stop the defendants operating the website in question and using Viacom trademarks without permission.
All associated service providers, advertising agencies and financial institutions connected to the website should be added to the injunction, the media company says, and the domain name Nickreboot.com should be handed over immediately.
According to a page on the Nick Reboot site, the service "operates strictly under certain provisions listed in the doctrine of 'fair use' as codified in section 107 of the copyright law, and monitors the status of related industry legislation such as Bill S.978 (pending) for compliance," but whether this means much to Viacom remains to be seen.
"Viacom respectfully demands a trial by jury on all claims and issues so triable," the company concludes.
At the time of publication, NickReboot had not responded to our request for comment.
Update: NickReboot's operator has just given the following message:
Apparently Viacom has filed legal action against nick reboot. This was done without any notice to me, the website operator (an email or something would have been nice – just saying). Thankfully I stumbled upon an article about it or I might never have found out. Who knows, maybe that was the intention.
This is the very first time I've heard anything from Viacom since starting this site back in 2012. Although nothing was ever communicated to me directly, I still take the allegations made against nick reboot very seriously. As such, I've decided to lock down access to the site in order to avoid causing further damage to the "Nickelodeon" brand.
I want to close with stating that nick reboot is not "malicious" and was never meant to be taken as such. I have the utmost respect for Viacom and the "Nickelodeon" brand and would have been more than willing to work with Viacom on this matter had I been contacted.