Over the past decade, hundreds of pirate streaming sites gained traction as free alternatives to official streaming platforms such as Netflix.
In 2013, Afdah.com entered the already crowded market and quickly attracted millions of users tempted by a comprehensive library of copyright-infringing movies. But of course, along with a rise in Afdah's popularity came increased interest from copyright holders determined to shut down or disrupt the site.
Afdah Was Originally Fueled By Content Stored on Google
In 2014, a German anti-piracy outfit identified more than 18,000 pirated videos stored on Google's servers, noting that more than a dozen pirate sites were using the library as fuel for their own sites.
Google described this as a violation of its terms of use, adding that infringing content is removed when rightsholders complain. Nevertheless, several well-known 'pirate' brands exploited the 'loophole', including Movie4K, Putlocker, Yify and Afdah.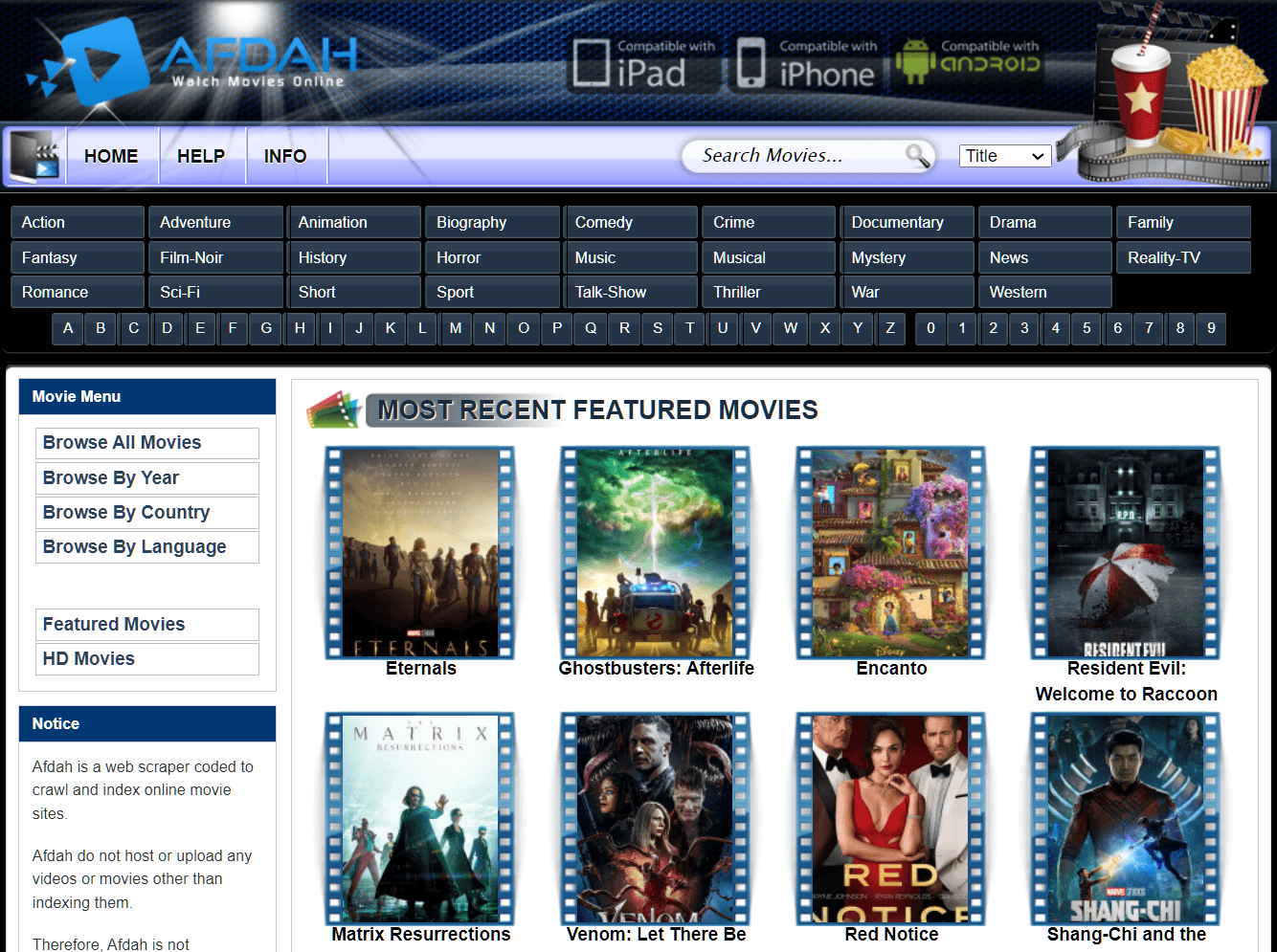 Whether Afdah continued to use Google's servers following the complaint is unclear but the site continued to grow. In 2015 it found itself among the top 250 most popular pirate sites in the world meaning that it would remain on Hollywood's hit list.
Movie Companies Increase The Pressure
With Afdah increasing in popularity, in 2015 the Motion Picture Association obtained a High Court injunction compelling the UK's leading ISPs to block Afdah.com.
Whether blocking was the direct reason is unclear but Afdah later deployed new domains including Afdah.tv and Afdah.to. These were blocked by ISPs following a legal process in Singapore in 2018. This dynamic injunction was also used to block additional domains deployed by Afdah in more recent years.
A year later, leading movie studios including Disney Enterprises, Universal City Studios, Netflix Studios and Village Roadshow applied for an ISP blocking injunction in Australia covering dozens of pirate sites including Afdah.com. But the studios weren't done.
In April 2021 we discovered that MPA and ACE had obtained a DMCA subpoena in the United States compelling Cloudflare to hand over the personal details of an individual behind an Afdah domain. At the time the domain was receiving more than six million hits per month. Just weeks later, Google received a request to remove Afdah from its search results but did not reveal the details "due to the nature of the court's order".
In October 2021, the MPA labeled Afdah.video (another new domain) a 'notorious market' in a submission to the United States Trade Representative, claiming that its operator lives in Singapore. Around six months ago reports suggested that the original Afdah may have gone down but given the number of other unrelated sites using its name to get traffic, some believed it may have been resurrected.
We can now confirm that the site's official domains definitely won't be making a comeback.
MPA/ACE Get Results After Years of Legal Action
On April 8, 2022, Afdah's confirmed official domains – Afdah.com and Afdah.video – found themselves under new ownership. As the latter's WHOIS information shows, it's now under the control of the Motion Picture Association.
The 'seizure' of these domains hasn't been officially confirmed by the MPA or ACE but it's likely they were handed over as part of a legal agreement between Afdah's owner and the movie companies. In many similar cases the studios' investigators have been able to find out the real identities of site owners and contact them directly with an order to cease and desist.
One of the conditions for site operators not being sued by the studios is that they hand over domains to the MPA. These are then used to display a deterrent message to would-be users of the shuttered platforms suggesting that they go legal to avoid putting themselves at risk.
As the image below shows, Afdah's oldest domain (Afdah.com) and its newest (Afdah.video) now display such a warning.
It took the MPA more than seven years but as the case against PrimeWire (an even older site) shows, the MPA's anti-piracy division is always prepared for the long haul.