Unlike 150 million or more Internet users, Apple is not a fan of BitTorrent. Every time someone submits a perfectly legal piece of torrent-related software to their App Store, the company issues a blanket ban.
In September last year there appeared to be a light at the end of the tunnel when software slipped through, but just days later the dream was over when Apple said the apps had been approved "by mistake".
The reasons Apple can exercise this kind of control are wrapped up in two issues. First, their absolute control over the content of the App Store and second, the restrictive DRM present in every single iDevice be it an iPod, iPhone or iPad.
Thankfully there is a way around this with a technique called jailbreaking, an act which through software removes Apple's control and allows third party software to run unhindered. Just this week the geniuses of the Evad3rs dev team released their latest jailbreak for iOS6 and what better way to celebrate the freedom it provides than installing a new torrent client?
The software, which is based on the open source Transmission, is called iTransmission 3. It is the much needed upgrade to iTransmission 2, a tool from Beecher Adams that received its latest release in the middle of 2012.
Installation
First your device needs to be upgraded to iOS6 or iOS6.1 and the jailbreak installed. Version 1.1 of the jailbreak is out now implementing a couple of fixes.
With the jailbreak comes Cydia, the alternative to Apple's app store. Simply click the icon on your iDevice and it will load. Click the 'Search' button, type in 'iTransmission 3' when prompted and click 'install' followed by 'Confirm'. The software will download, install, and place a launch icon on your device – we're using an iPhone for our demo.
Quick Setup
Having a quick look under the hood before diving into a torrent never hurts, so clicking the little 'cog' icon on the bottom right of the interface gets us into iTransmission 3's settings page.
Options include turning on and configuring the client's web interface and allowing iTransmission 3 to use WiFi and/or cellular communications, a useful feature for keeping those data bills down.
The 'dial' icon on iTransmission 3's main screen calls up settings for speed. These include limiting the number of connections overall and connections per torrent. Setting any of these too high could cause your iPhone or iPad to become unstable, so a little trial and error is required to get the optimum setting.
In most cases on an established torrent the settings shown below should do the trick. So as not to saturate your download or upload bandwidth there are features to restrict either, should you so require.
Adding a torrent to download
Users have two options to add a torrent. The first ('web') launches a web browser which is far from ideal (no pinch/zoom) but functions adequately. We browsed to ThePirateBay.se, and grabbed a release with just a few seeds so the site gave us a .torrent file instead of the default magnet link. The torrent added the download to iTransmission 3's queue immediately.
The second option, adding a torrent via a magnet link, was just as painless. Magnets can be added directly by clicking on them from the web browser. If you have the magnet link in your iPhone's clipboard or can remember it, that can be entered into the 'magnet' input box directly.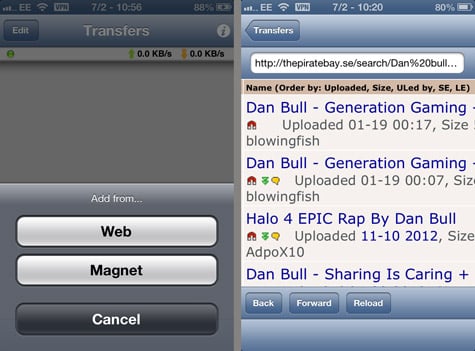 Once a torrent or magnet link is added simply navigate back to iTransmission 3's main page and a full status report for active transfers is displayed. Highlighting any torrent reveals new controls which allow the user to stop, pause, resume or delete a transfer.
Other details available include the current download and upload speeds, the hash of the torrent and which client created it, where a torrent was downloaded from and whether it's private or not, plus details of the downloaded files and where they will be stored in your iDevice.
Overall, iTransmission 3 is a decent client that is simple to use and functions as advertised. The app works on iPad but does not yet take advantage of the larger display, something that should be addressed in a future update.
Available from the the repo at ModMyi, iTransmission 3 is completely free and currently only for iOS6.x.