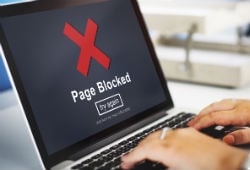 Website blocking in Russia is becoming a pretty big deal. Hundreds of domains are now blocked at the ISP level for a range of issues from copyright infringement through to prevention of access to extremist material.
In common with all countries that deploy blocking measures, there is a high demand in Russia for services and software that can circumvent blockades. As a result, VPNs, proxies, mirror sites and dedicated services such as Tor are growing in popularity.
Russian authorities view these services as a form of defiance, so for some time moves have been underway to limit their effectiveness. Earlier this year draft legislation was developed to crack down on systems and software that allow Internet users to bypass website blockades approved by telecoms watchdog Roskomnadzor.
This week the draft bill was submitted to the State Duma, the lower house of the Russian parliament. If passed, it will effectively make it illegal for services to circumvent web blockades by "routing traffic of Russian Internet users through foreign servers, anonymous proxy servers, virtual private networks and other means."
As it stands, the bill requires local telecoms watchdog Rozcomnadzor to keep a list of banned domains while identifying sites, services, and software that provide access to them. Once the bypassing services are identified, Rozcomnadzor will send a notice to their hosts, giving them a 72-hour deadline to reveal the identities of their operators.
After this stage is complete, the host will be given another three days to order the people running the circumvention-capable service to stop providing access to banned domains. If the service operator fails to comply within 30 days, all Internet service providers will be required to block access to the service and its web presence, if it has one.
This raises the prospect of VPN providers and proxies being forced to filter out traffic to banned domains to stay online. How this will affect users of Tor will remain to be seen, since there is no way to block domains. Furthermore, sites offering the software could also be blocked, if they continue to offer the tool.
Also tackled in the bill are search engines such as Google and Yandex that provide links in their indexes to banned resources. The proposed legislation will force them to remove all links to sites on Rozcomnadzor's list, with the aim of making them harder to find.
However, Yandex believes that if sites are already blocked by ISPs, the appearance of their links in search results is moot.
"We believe that the laying of responsibilities on search engines is superfluous," a spokesperson said.
"Even if the reference to a [banned] resource does appear in search results, it does not mean that by clicking on it the user will get access, if it was already blocked by ISPs or in any other ways."