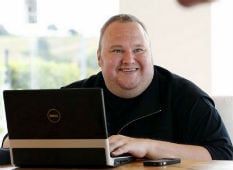 Following the Megaupload shutdown and the raid on Kim Dotcom's mansion, many hours have been spent on the case in courts around the world.
While Dotcom and several of his former colleagues were targeted for alleged copyright crimes, thus far the major battles have been focused on other legal aspects of the case.
In a complaint filed at the Human Rights Tribunal, Dotcom accused the New Zealand Government of improperly withholding information. In 2015 Dotcom asked 28 ministers and several government departments to disclose information they held on him, without result.
The requests were labeled as "urgent" due to Dotcom's pending legal case, but then-Attorney General Chris Finlayson denied them as being vexatious and without sufficient grounds.
Today the Human Rights Tribunal ruled that, by denying the requests, "…the Crown to be in clear breach of its obligations under the Privacy Act," awarding the Megaupload founder $90,000 in damages for "loss of dignity or injury to feelings."
While the financial windfall must be welcome, Dotcom also sees this ruling as a big victory in the grander scheme of things. According to the New Zealand entrepreneur, it means that the U.S. extradition bid is dead in the water.
"What does the Human Rights Tribunal Judgement mean for my Extradition case? It is OVER!" Dotcom just tweeted
"By unlawfully withholding information that could have helped my case the former Attorney General of New Zealand has perverted the course of Justice," he adds.
It's over…?
In addition to awarding damages, the ruling also requires the ministers and Government to comply with the original requests, as Newshub writes.
The Tribunal's decision is a clear win for Dotcom. While it doesn't automatically end the extradition case, going forward it certainly doesn't hurt the position of Megaupload's founder.
Who it could hurt, according to Dotcom, is New Zealand's Privacy Commissioner John Edwards.
"I call for the immediate resignation of the Privacy Commissioner of New Zealand for his complicity with the former Attorney General and Crown Law in unlawfully withholding information that New Zealanders were legally entitled to," Dotcom tweets.
The Privacy Commissioner retweeted Dotcom's request without commenting on it, which elicited another blow from Dotcom.
"I appreciate the acknowledgment. The Human Rights Tribunal judgment makes you look utterly incompetent at best or co-conspiratorial at worst. Which is it? Either way, you're done," Dotcom added.
—
A copy of the Human Rights Tribunal ruling is available here (pdf).