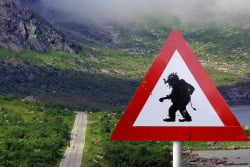 So-called copyright-trolling is big business, particularly in the United States and Europe. After trawling BitTorrent swarms for IP addresses allegeldy connected to the unlawful sharing of movies and TV shows, rightsholders move to identify the subscribers behind them.
The purpose is to extract a cash settlement from the alleged wrongdoers but that can only be achieved after obtaining their real identities. That requires a court order compelling ISPs to hand over their subscribers' personal data so that law firms can contact them by mail, suggesting that a lawsuit can be avoided if a sum of money is handed over.
Sweden's Copyright Troll Problem
In 2020, law firms acting for these so-called copyright trolls obtained permission to force Swedish ISPs to hand over the personal details of subscribers behind 46,200 IP addresses.
The vast majority of these, according to data compiled by Swedish ISP Bahnhof (which has never handed over customer information), were actioned by ISP Telia, which handed over the personal details behind 34,189 IP addresses in 2020 alone.
However, according to an investigation carried out by Swedish news publication DN.se (paywall), Telia also handed over subscriber information when it was told it should not.
Telia Exposes 55 Customers to Piracy Allegations
When rightsholders want to access ISP subscriber information in Sweden they file an action at the Patent and Market Court. After assessing the submissions, the Court almost always gives its approval to a discovery process, which requires ISPs to hand over names and addresses behind the supplied IP addresses.
On February 4, 2020, Telia was ordered to disclose the personal information of some customers but in other cases the Court decided against disclosure, meaning that Telia was not allowed to hand over the information requested in the applications.
In the event, Telia failed to follow the instructions of the Court and handed over the personal details of 55 subscribers to law firm Next Advokater regardless.
Law Firm Refuses To Discuss What Happened Next
Telia has admitted that it handed over the restricted information to the law firm but what happened next is unclear. Next Advokater refused to inform DN whether the 55 Telia customers were sent a settlement letter or not. The law firm also declined to confirm whether any settlements were paid in response to any letters.
Precisely why Telia disclosed the subscriber details to the law firm contrary to the Court's instructions is unclear but at the moment it is being described as a mistake, one that the company is taking very seriously. Telia's assessment indicates that the risk of negative consequences for its subscribers is high. It has contacted the affected subscribers and offered its apologies.
Action By Telia To Prevent Similar Errors
Moving forward, Telia says it is reviewing its systems to prevent the same error from being made in the future but the question remains whether the ISP will be punished for the security breach.
Handing over private subscriber information to a party that has already been denied access to information is a serious matter, particularly when a court is behind the non-disclosure order. Add to that the intentions of the law firm, including applying maximum pressure to pay a settlement or even to sue, then the distress caused to Telia's customers could be significant.