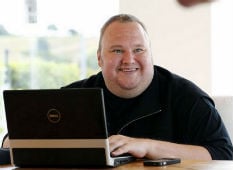 It's been more than six years since New Zealand and United States authorities collaborated to take down Megaupload. While the site itself is long gone, founder Kim Dotcom is putting up a determined fight.
At every twist and turn of his epic legal battle, Dotcom has challenged the efforts of authorities in multiple jurisdictions. The New Zealand courts, in particular, have seen sustained action.
From the beginning, Dotcom has aimed to extract as much information about his case as possible. From the seized data that was present on Megaupload's servers to the information held by New Zealand authorities, Dotcom has chased down every bit, byte, letter, and document. At almost every turn, he's met resistance.
In a series of tweets this morning, Dotcom has revealed a surprising turn of events in response to an order compelling authorities to provide him with data. New Zealand police have informed Dotcom's lawyers that they haven't complied with Human Rights Tribunal judgment because the information requested was generated before December 2013 and is no longer in the new IT system.
4.5 years later…..it's all gone
"According to the new Attorney General David Parker (Labour Govt) he can't comply with a judgment to provide me with information I'm entitled to because he doesn't have access to the data of the previous Attorney General. What an utterly embarrassing mockery of New Zealand law," Dotcom explains.
Information provided by Dotcom shows that the current Attorney-General David Parker has provided information held during his administration. However, the majority of the data requested by Dotcom's team related to the term covered by his predecessor Chris Finlayson.
Citing several paragraphs of the New Zealand government's Cabinet Manual relating to 'Convention on access to Cabinet records of a previous administration', Parker says he does not have access to information held under Finlayson's watch. Dotcom's lawyers immediately complained.
"This is an artificially narrow interpretation of the Tribunal's order and the relevant rules and defeat the purpose of the order," they wrote in a submission filed with the Human Rights Tribunal this morning, which also seeks an order for the government to comply with the Tribunal's earlier judgment by July 31.
With that done, Dotcom turned his attention to a group of people he previously hoped would develop into allies but have yet to do so.
When the 2012 raid on Megaupload and Dotcom took place, it was under a National Party government. When they lost power to Labour in 2017, Dotcom appeared to adopt a more gentle tone, perhaps hoping that the new government would take the opportunity to declare his case a National Party mistake and one best forgotten.
Since it seems clear that isn't going to happen, Dotcom's tone is now changing for the worse.
"Let it be known. The new Labour government is continuing the unlawful persecution of my family while breaching every law and judgment in the land to prevent me from getting access to information that the New Zealand Supreme Court ruled I should have," he warned this morning.
"The gloves are coming off!"