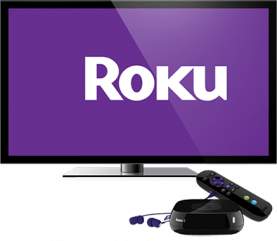 In recent years it has become much easier to stream movies, TV-shows and other media over the Internet.
Legal services such as Netflix and HBO are flourishing, but there's also a darker side to this streaming epidemic.
Millions of people are streaming from unauthorized sources, often paired with perfectly legal streaming platforms and devices. This issue has become particularly problematic for Roku, which sells easy-to-use media players.
The company's media players were banned from sale in Mexico last year, where the company has over a million users.
This ruling turned piracy into one of the company's main priorities and it didn't take for Roku to take action. It soon started building its in-house anti-piracy team and several pirate channels were banned from the platform, replaced by FBI warnings.
Today, roughly a year after Roku's piracy woes hit the mainstream news, the company has released fresh details that show how effective its anti-piracy measures have been.
According to data collected directly from Roku's platform this month, approximately 99.5% of all "streaming hours" come from channels with no links to 'pirate organizations.'
In other words, the vast majority of the time spent streaming content on Roku is not related to piracy.
In Mexico, approximately 92% of streaming hours come from 'legitimate' channels, but Roku is confident that this number will align with the global average as time progresses.
While the new data show that piracy is relatively minimal, Roku doesn't explain how this compares to a year ago. The company suggests, however, that there is a clear downward trend.
Previously, figures published by a Mexican market research firm estimated that forty percent of all Roku owners in the country use the device to access pirated content. However, that report didn't look at the time spent viewing various channels.
The positive progress was achieved through a combination of enforcement efforts, Roku says.
The company says it tracked down more than 400 pirate organizations and removed all associated channels, for example. In addition, Roku also took action against thousands of social media pages that were used to promote allegedly infringing Roku channels.
These efforts have not been without controversy. They caused some backlash when legitimate YouTube and Netflix channels were accidentally replaced by FBI warnings, and recent bans of M3U playlist players are also called into question.
Roku, however, is not planning to ease up. Developers will now have to get certified before they can publish any channels and the company says it's using automated technology to detect potential infringing content.
"Piracy hurts our business and the industry. We continue to devote considerable resources to fighting piracy by continuously improving our software, tools and detection methods to remove pirates from our platform," Gary Ellison, Roku's VP of trust engineering says.
"The data we are releasing today shows the effectiveness of our anti-piracy efforts. It is a top priority to ensure that our platform is closed for pirates and good for consumers."
The data focuses on Mexico for a reason. Over the past several months, Roku has discussed its piracy efforts with Mexican government bodies and trade organizations and hopes its progress will eventually mean devices being welcomed back to local stores.
"Mexico can benefit greatly from legitimate TV streaming and should not let piracy stand in its way," Matthew Anderson, Roku's chief marketing officer says, commenting on the data.
"It's time for all major leaders in the TV industry to work together to end piracy while giving consumers the wide choice of TV content they deserve," he adds.