Whenever there's a new headline about the years-long prosecution of Megaupload, it is usually Kim Dotcom's image adorning publications around the world. In many ways, the German-born entrepreneur is the face of the United States' case against the defunct storage site, and he appears to like it that way.
Thanks to his continuous presence on Twitter, regular appearances in the media, alongside promotion of new file-sharing platforms, one might be forgiven for thinking Dotcom was fighting the US single-handedly. But quietly and very much in the background, three other men are also battling for their freedom.
Megaupload programmers Mathias Ortmann and Bram van der Kolk face a similar fate to Dotcom but have stayed almost completely silent since their arrests in 2012. Former site advertising manager Finn Batato, whose name headlines the entire case (US v. Finn Batato) has been a little more vocal though, and from recent comments we learn that the US prosecution is taking its toll.
Seven years ago before the raid, Batato was riding the crest of a wave as Megaupload's CMO. According to the FBI he pocketed $630,000 in 2010 and was regularly seen out with Dotcom having fun, racing around the Nürburgring's Nordschleife track with Formula 1 star Kimi Raikkonen, for example. But things are different now.
Finn with Kimi Raikkonen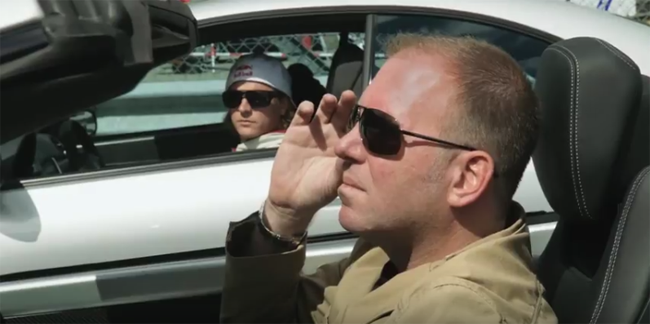 While still involved with Mega, the new file-sharing site that Dotcom founded and then left after what appears to be an acrimonious split, Batato is reportedly feeling the pressure. In a new interview with Newshub, the marketing expert says that his marriage is on the rocks, a direct result of the US case against him.
According to Batato, he's now living in someone else's house, something he hasn't done "for 25 years." It's a far cry from the waterside luxury being enjoyed by Dotcom.
Batato met wife Anastasia back in 2012, not long after the raid and while he was still under house arrest. The pair married in 2015 and have two children, Leo and Oskar.
"The constant pressure over your head – not knowing what is there to come, is very hard, very tough," Batato said in an earlier interview with NZHerald.
"Everything that happens in our life happens with that big black cloud over our heads which especially has an impact on me and my mood because I can't just switch it off. If everything goes down the hill, maybe I will see [my sons] once every month in a prison cell. That breaks my heart. I can't enjoy it as much as I would want to. It's highly stressful."
Since then, Batato has been busy. While working as Mega's Chief Marketing Officer, the German citizen has been learning about the law. He's had to. Unlike Dotcom who can retain the best lawyers in the game, Batato says he has few resources.
What savings he had were seized on the orders of the United States in Hong Kong back in 2012, and he previously admitted to having to check his bank account before buying groceries. As a result he's been conducting his own legal defense for almost two years.
In 2015 he reportedly received praise while doing so, with lawyers appearing for his co-defendants commending him when he stood up to argue a point during a Megaupload hearing. "I was kind of proud about that," he said.
Like Dotcom (with whom he claims to be on "good terms"), Batato insists that he's done nothing wrong. He shares his former colleague's optimism that he won't be extradited and will take his case to the Supreme Court, should all else fail.
That may be necessary. Last week, the New Zealand High Court determined that Batato and his co-defendants can be extradited to the US, albeit not on copyright grounds. Justice Murray Gilbert agreed with the US Government's position that their case has fraud at its core, an extraditable offense.
In the short term, the case is expected to move to the Court of Appeal and, depending on the outcome there, potentially to the Supreme Court. Either way, this case still has years to run with plenty more legal appearances for Batato. He won't be doing it with the legal backup enjoyed by Dotcom but he'll share his determination.