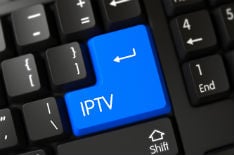 Pirates and rightsholders alike understand that eliminating all piracy is an impossible task but if the last 20+ years of mainstream piracy have shown anything, it's that those with content to protect will never give up trying.
That can mean aggressive shutdowns through to policy and legislative changes but the overall goal in the face of an impossible task is disruption. And rightsholders are getting increasingly good at it.
One of the current hot potatoes is pirate IPTV, subscription-based services that offer more than any legal streaming service can at the fraction of the price. Rightsholders and broadcasters can't shut them all down but they can shut down some and for the remainder, life can be made just a little bit more difficult.
In addition to actions we've already reported on this week in the UK and the Netherlands, here are just a few examples of other anti-piracy actions taken in recent days.
What Happened to Northern IPTV?
After first appearing in the summer of 2019, Northern IPTV grew to become one of the most favored pirate IPTV providers in Canada offering a decent spread of live TV channels and a video-on-demand service. Like many before it, in the closing months of last year Northern IPTV eventually succumbed to copyright issues.
Aside from the above, the service gave no indication of who was behind the presumed threats but this week the final piece of the puzzle came into place. The domains from where the IPTV platform used to operate – northerniptv.com and northerniptv.ca – were transferred into the hands of the Motion Picture Association and Motion Picture Association Canada, respectively.
This all but confirms that the platform was shut down by the Alliance For Creativity and Entertainment, a massive anti-piracy coalition featuring dozens of the world's largest content creators and broadcasters.
Other pirate-IPTV domains falling into the hands of MPA/ACE this week include iptvonline.net, bestiptvonline24.com, iptvonline24.com and iptvonline.ca.
Whether the operators of these domains paid a settlement to avoid a lawsuit is unknown but over in the Netherlands, legal action can be the outcome if IPTV sellers put their heads above the parapet.
BREIN Targets Trader Behind ExpatsIPTV
In an announcement this week, Dutch anti-piracy group BREIN revealed that after identifying the previously anonymous trader behind ExpatsIPTV, the man was taken to court.
After initially denying any involvement, at a hearing the man eventually admitted that he had indeed been selling pirate IPTV packages providing access to TV channels, live sports, movies and TV shows.
The court imposed a ban on the seller preventing any further sales with a penalty of 5,000 euros per day (to a maximum of 50,000). He was also ordered to provide information on all other parties involved in ExpatsIPTV within 7 days, enforced by a 600 euros per day penalty for non-compliance. On top, the man was also ordered to pay legal costs of 9,759 euros.
Of course, direct lawsuits are always an option to deal with pirate IPTV services. In many cases, however, site blocking is preferred.
Rightsholders Crack Down on Football Piracy
Ligue de Football Professionnel – the governing body in control of the major professional football leagues in France – announced this week that it had obtained an order designed to disrupt pirate IPTV services.
Handed down by a Paris court, the order requires several ISPs including Orange, Free, Bouygues and SFR (plus subsidiaries) to block access to a number of pirate IPTV and streaming services that broadcast football games illegally.
"The Professional Football League welcomes the decision rendered on March 17 by the President of the Paris Judicial Court ordering, for the first time in France, the blocking by French ISPs of access to pirate IPTV services," the LFP announced.
"On the basis of Article L. 333-10 of the Sports Code, the court also ordered the blocking of streaming sites broadcasting without authorization the Ligue 1 Uber Eats and Ligue 2 BKT championships."
While LFP suggests that this is the first time that IPTV services have been blocked in France, that's not exactly true. In January it was revealed that French anti-piracy group ALPA, the National Cinema Center, and several major rightsholders had obtained a similar order to block pirate IPTV platforms.
Nevertheless, the important thing is the flexibility of these types of orders.
The order obtained by LFP is reported to target around 50 locations related to various services but the involvement of new anti-piracy agency Arcom means that should any new domains/IP addresses related to these platforms serve to circumvent blocking, they can be swiftly blocked too.
"Faced with the economic stakes for French professional and amateur sport, the public authorities and the judicial authorities have grasped the urgency of providing effective protection for professional football competitions against the serious and repeated attacks to which they are subject," LFP adds.
It's certainly been a busy week for action against IPTV and similar streaming services but all the signs suggest that this is becoming the new normal. Rightsholders can't shut every platform down but they can disrupt them, time and time again, using any combination of tools.