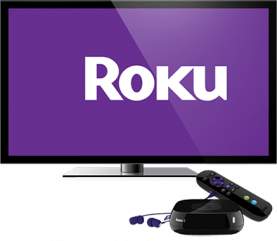 Until the turn of the decade, obtaining online pirate content was almost exclusively achieved by individuals with desktop and laptop computers. With the rise of streaming, set-top devices are now the major entry point.
With Kodi-enabled Android devices grabbing much of the attention (and criticism), other platforms have also been feeling the heat.
Despite offering plenty of legitimate content such as HBO Go, Hulu, and Netflix and playing no active role in the provision of unlicensed media, Roku is one of those enduring a bumpy ride.
Last year following a complaint from Cablevision, the Superior Court of Justice of the City of Mexico handed down a ban, prohibiting stores like Amazon from importing and selling Roku devices due to third parties offering unlicensed content via the platform.
It didn't take long for Roku to react. Last August the company began displaying warnings to users who added channels to their device that weren't obtained via the official Roku store. Then just a month later, it was revealed that Roku was assembling its own anti-piracy team.
In the background the legal wheels turned, with Roku trying everything in its power to have the Mexico ban overturned. As of today the ban remains with no clear end in sight but that doesn't mean that Roku has been standing still.
It appears that on May 23, a group of Mexican journalists was welcomed to Roku's Silicon Valley headquarters. Just days later, Roku CEO Anthony Wood and Marketing Director Matthew Anderson visited Mexico City. While these events were no doubt designed to build bridges, Mexico's Telecommunications Law Institute (IDET) painted the efforts in a rather different light.
According to El Economista, IDET said the moves were designed to exert pressure on the judiciary and to sway public opinion in favor of Roku.
"[Roku's] intention is to influence the judges who are reviewing this case, which formally has not begun," said IDET member Gonzalo Rojón.
"We feel they are doing that because they want to influence the judges, but the truth is that intellectual property rights are still not respected and the truth is that this is a very strong problem for Mexico."
In a response, Roku denied this interpretation, stating that their aim is to introduce Mexico to its business and to demonstrate the measures it takes to counter copyright-infringing content.
"On May 23, we invited a group of Mexican journalists to the Roku headquarters in Silicon Valley to introduce them to the company and our history in the streaming market and also to explain the strong anti-piracy measures we have implemented in Mexico and around the world," Marketing Director Matthew Anderson explained.
"Right now, we feel it is very important to help journalists and the public understand more about Roku and our history, that we are a reliable company, particularly for the leading content generation companies in the world that distribute their content on the platform. We want to explain the anti-piracy measures we are taking."
While both IDET and Roku agree that piracy is a problem, there is a difference of opinion on where the bounds of responsibility lie. IDET holds Roku to blame when unlicensed content appears via its service but Roku insists that piracy is an Internet-wide issue that has spread to platforms everywhere.
IDET has been extremely vocal on the topic and has published three press releases on the subject of Roku during the last couple of weeks. They say that Roku needs to do more, holding up competitors such as Apple TV and Google Chromecast as examples of set-top devices that tackle piracy well.
"Roku seeks to become the most economical, simple and accessible device in the streaming market. Its competitors in this segment are Apple TV and the giant Google that have similar devices which, however, do not face legal conflicts similar to those of Roku," IDET writes.
"It is a cheap and accessible technology but it allows the streaming of stolen signals directly to the television screen. [Roku's] Matthew Anderson, who comes from the legitimate content generation industry, assures that Roku strives to bring to the market a 'legal' means of downloading content. But with a presence in 23 countries, more than 45,000 associated channels, and more than 21 million accounts, Roku – unlike Apple TV and Google – is still vulnerable."
There is no dispute that Roku wants to reduce piracy and IDET agrees that Roku in no way advertises or encourages any means to infringe and it is third-parties abusing Roku that are to blame. However, Roku and IDET seem to have a difference of opinion as to how this should be tackled.
For its part, Roku says that once it's advised that infringing content is being made available via its platform, it takes steps to eliminate it. It's a system employed by Internet platforms all over the world and recognized as being at the core of the DMCA, for example.
IDET, however, wants Roku to be more proactive. It says that once the content has been made available via Roku the damage has already been done and it appears that unlike some of its competitors, Roku has not found a solution to that problem.
"Why can Apple or Google prevent this situation? Because their devices eliminate the possibility of distributing stolen material in advance. It's just a technology issue. It is not understood why an important streaming platform, such as Roku, has not been able to turn this problem around," IDET says.
With the import and sales ban stubbornly in place, IDET says that no one wants Roku devices off the market. They're good for competition and provide consumers with more options. However, Roku will have to do more if it wants to do business in Mexico, a solution that IDET insists is merely a technical step away.
"No one is against selling Roku devices in the market. On the contrary, the promotion of competition is applauded and the consumers of audiovisual content have more and better and better options to decide," IDET writes.
"What is unfortunate is that this high caliber competitor can not resolve the intrusion of piracy on his device. In the end it is just a matter of technology to invest in an appropriate software. Hopefully it will be resolved soon."
Reports that 40% of all Roku users in Mexico are pirates certainly don't help the company's case (Roku contests the figure) but by banning services such as the popular cCloud, the company shows good intent that may eventually pave the way for the ban to be lifted in Mexico.