During the early days of February, authorities in the United States embarked on a new round of domain seizures. A total of 307 domains were targeted in Operation Fake Sweep, 291 of which sold counterfeit merchandise such as NFL clothing.
This round of seizures, the tenth carried out by the Department of Justice and Homeland Security's ICE unit, also targeted several sites that offered links to sporting events.
In total 16 domains were seized: firstrow.tv, xonesports.tv, firstrowsports.tv, firstrowsports.net, firstrowsports.com, hq-streams.tv, robplay.tv, soccertvlive.net, sports95.net, sports95.com, sports95.org, sportswwe.net, sportswwe.tv, sportswwe.com, youwwe.net and youwwe.com.
All of the sites were diverted to the familiar ICE 'seized sites' banner.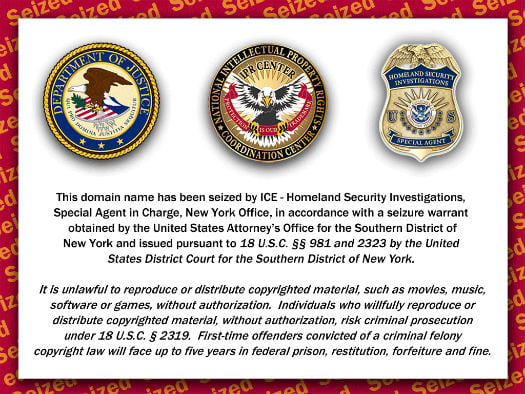 Not on all site admins the seizures had the desired affect. Within a day the FirstRowSports sites had switched to a new domain and were back in business. Speaking with TorrentFreak, the co-owner of FirstRow said that the sites would continue until a court – not the entertainment industries – deemed them illegal.
Interestingly, as reported this morning, the Rojadirecta domains seized by the U.S. authorities in an earlier copyright infringement sweep will now be returned after the U.S. decided they didn't have the stomach for the kind of court battle described by FirstRow.
But for an admin behind some of the other seized domains listed above including hq-streams.tv and sports95.com, it is all too little too late.
Yonjo Quiroa of Comstock Park is the 28-year-old now-former owner of nine of the domains (not the Firstrow ones) seized in Operation Fake Sweep . ICE say that during January 2012 they were able to access unauthorized NBA, NHL and WWE streams via links on his websites.
Quiroa left a number of trails to his door, not least when he offered to sell some WWE-related domains to an undercover ICE agent posing as an employee of the WWE. On February 2 he was arrested by police in Michigan.
Known online as Ronaldo Solano, Quiroa has been held in custody without bail ever since, a total of almost seven months without trial. On August 1, 2012, Quiroa entered a guilty plea for a copyright misdemeanor on the understanding that he will receive a sentence of between 6 and 12 months.
"Mr. Quiroa has waived any rights to a presentence investigation and report," writes Quiroa's attorney in a letter filed in the docket this week and addressed to the judge handling the case.
On September 4 Quiroa will be sentenced, but even on release his punishment will continue.
"Mr. Quiroa will be removed from the United States following his service of his sentence in this case," Quiroa's attorney writes. "In light of these facts the guidelines do not recommend a term of supervised release [..]"
ICE claim that Quiroa was running a serious criminal enterprise set on turning a large profit, but from his entire operation which started in 2010 he made just $13,000.