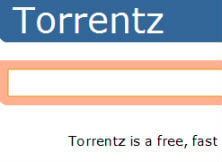 Over the past few months City of London Police have been working together with copyright holders to topple sites that provide or link to pirated content.
The police started by sending warning letters to site owners, asking them to go legit or shut down. Late last year this was followed by a campaign targeted at domain registrars, asking them to suspend the domain names of several "illegal" sites.
A few days ago police sent out another round of requests to various domain name registrars, asking them to suspend the domains of several allegedly infringing sites. Before the weekend we reported that the cyberlocker search engine FileCrop was targeted, and today the same happened to Torrentz.eu.
Starting a few hours ago the popular search engine became unreachable after its DNS entries were pointed at ns1.blocked.netart.pl and ns2.blocked.netart.pl.
The operator of Torrentz informs TorrentFreak that the site's main domain name was suspended by its registrar following a request from police in the UK. The site is still registered to the Torrentz team, who hope that they will be able to lift the suspension or move the domain name elsewhere.
Several other Torrentz domains remain unaffected, and the site can still be accessed via the Torrentz.ch and Torrentz.me domains.
Torrentz is the most prominent site thus far to lose control of its domain following action by UK police. With millions of visitors a day it's one of the largest torrent sites on the Internet. The site is also an unusual target since it is a pure meta-search engine, showing nothing more than a search box on the homepage.
The actions of the Police Intellectual Property Crime Unit are not without controversy. While some registrars are willing to cooperate, Canada-based easyDNS previously refused to comply and successfully defended its customers.
"Correct me if I'm wrong, but I always thought it was something that gets decided in a court of law, as opposed to 'some guy on the internet' sending emails. While that's plenty reason enough for some registrars to take down domain names, it doesn't fly here," easyDNS' CEO Mark Jeftovic said at the time.
In Torrentz's case, however, it appears that an email from the UK Police was good enough to have their domain suspended. However, the site's owner should still be able to regain full control over the domain name.
Previously, ICANN's Transfer Dispute Resolution Policy panel ruled that registrars can't hold domain names hostage simply because a law enforcement agency believes it may be infringing.
"Although there are compelling reasons why the request from a recognized law enforcement agency such as the City of London Police should be honored, the Transfer Policy is unambiguous in requiring a court order before a Registrar of Record may deny a request to transfer a domain name," the panel wrote in its decision.
"To permit a registrar of record to withhold the transfer of a domain based on the suspicion of a law enforcement agency, without the intervention of a judicial body, opens the possibility for abuse by agencies far less reputable than the City of London Police," it added.
The above means that there's a good chance that Torrentz will be able to get its domain unsuspended, or transferred to a new registrar at least (although it has to be noted .EU doesn't fall under ICANN's TDRP). Time will tell if this is indeed the case.
TorrentFreak has asked the UK Police Intellectual Property Crime Unit for a comment on the renewed suspension requests, but we haven't heard back from them thus far – today is a national holiday in the UK.
Update: Torrentz.eu is unsuspended and back in action.
Update: The Police Intellectual Property Crime Unit shared the following response with TorrentFreak.
"Operation Creative is a ground-breaking initiative is designed to disrupt and prevent websites from providing unauthorised access to copyrighted content, in partnership with the creative and advertising industries.
"As part of Operation Creative, rights holders in the creative industries identify and report copyright infringing websites to PIPCU, providing a detailed package of evidence indicating how the site is involved in illegal copyright infringement. Officers from PIPCU then evaluate the websites and verify whether they are infringing copyright. At the first instance of a website being confirmed as providing copyright infringing content, the site owner is contacted by officers at PIPCU and offered the opportunity to engage with the police, to correct their behaviour and to begin to operate legitimately.
"If a website fails to comply and engage with the police, then a variety of other tactical options may be used including; contacting the domain registrar informing them of the criminality and seeking suspension of the site and disrupting advertising revenue through the use of an Infringing Website List (IWL) available to those involved in the sale and trading of digital advertising.
"The IWL, the first of its kind to be developed, is an online portal providing the digital advertising sector with an up-to-date list of copyright infringing sites, identified and evidenced by the creative industries and verified by the City of London Police unit. The aim of the IWL is that advertisers, agencies and other intermediaries will use it as a brand safety tool and cease advert placement on these illegal websites."
Photo: Michael Theis