The Tribler BitTorrent client is no newcomer to the BitTorrent scene. It has been in development for more than 5 years and has delivered many innovative features, which have mostly been ignored by the masses.
Today, however, Tribler is more relevant than ever before.
Developed by a team of researchers at Delft University of Technology, the main goal is to come up with a robust implementation of BitTorrent that doesn't rely on central servers. Instead, Tribler is designed to keep BitTorrent alive, even when all torrent search engines, indexes and trackers are pulled offline.
"Our key scientific quest is facilitating unbounded information sharing," Tribler leader Dr. Pouwelse tells TorrentFreak.
"We simply don't like unreliable servers. With Tribler we have achieved zero-seconds downtime over the past six years, all because we don't rely on shaky foundations such as DNS, web servers or search portals."
So how does it work?
Like many other BitTorrent clients, Tribler has a search box at the top of the application. However, the search results that appear when users type in a keyword don't come from a central index. Instead, they come directly from other peers.
Tribler's decentralized search results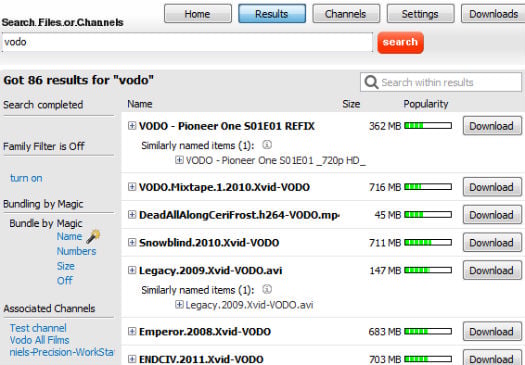 Downloading a torrent is also totally decentralized. When a user clicks on one of the search results, the meta-data is pulled in from another peer and the download starts immediately. Tribler is based on the standard BitTorrent protocol and uses regular BitTorrent trackers to communicate with other peers. But, it can also continue downloading when a central tracker goes down.
The same is true for spam control. Where most torrent sites have a team of moderators to delete viruses, malware and fake files, Tribler uses crowd-sourcing to keep the network clean. Content is verified by user generated "channels", which can be "liked" by others. When more people like a channel, the associated torrents get a boost in the search results.
The latest addition to Tribler is a Wikipedia-style editing system dubbed "Open2Edit," where users have the option to edit names and descriptions of torrents in public channels. All without a central server, totally decentralized.
open2Edit
According to Dr. Pouwelse, Tribler is fully capable of resisting any pressure from outside, and it will still work when all torrent sites and trackers are gone. It simply can't be shutdown, blocked or censored, whatever laws politicians may come up with.
"The only way to take it down is to take The Internet down." Pouwelse told us.
One thing that could theoretically cause issues, is the capability for starting users to find new peers. To be on the safe side the Tribler team is still looking for people who want to act as so called bootstraptribler peers. These users will act as superpeers, who distribute lists of active downloaders.
"Together with software bugs and a code cleanup, that is now our last known weakness," says Pouwelse.
While the Tribler client only has a few thousand users at the moment, for avid file-sharers it must be a relief to know that it's out there. No matter what crazy laws may pass in the future, people will always be able to share.
Those who want to give it a spin are welcome download Tribler here. It's completely Open Source and with a version for Windows, Mac and Linux.