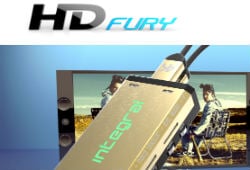 Late last year the first pirated copies of 4K videos leaked from both Netflix and Amazon. These leaks were unusual as online 4k streams were always well protected against pirates.
Initially it was unclear how the HDCP content protection had been circumvented, but several sources suggested that one of LegendSky's latest HDFury devices may have been involved.
This suspicion was later corroborated by a well-known Scene group, which openly thanked HDFury in their release notes.
However, not everyone was pleased with the new "pirate tool." In fact, Warner Bros. and Intel daughter company Digital Content Protection (DCP) sued the HDFury manufacturer over its ability to "strip" the latest HDCP encryption.
The Chinese hardware manufacturer fiercely rejected these piracy claims and countersued Warner and Intel subsidiary for defamation.
In its reply, LegendSky explained that their devices do not "strip" any HDCP copy protection. Instead, the contested HDFury device merely downgrades the higher HDCP protection to a lower version, which is permitted as an exception under the DMCA.
The company further added that several HDCP licensees including Netflix, Disney, NBC and CBS have bought their devices for legitimate purposes.
It's possible that DCP also appreciated the strength of this argument as this week the company dropped its copyright infringement claims against LegendSky. This means that the 4K integral remains for sale, despite the earlier piracy claims.
Court documents reveal nothing other than a statement signed by both parties, stating that the claims and counterclaims have been dismissed. However, LegendSky did inform its customers a few days ago referring to a settlement being reached.
"We just have been informed by our legal counsel that we must pull all of the below products immediately due to a pending confidential settlement we are reaching," the email in question reads.
LegendSky's email
Interestingly, the products that were pulled have nothing to do with the 4K splitter that started the lawsuit. Instead, they are digital to analog converters.
In the U.S. these type of products have previously been classed as "infringing" and DCP informed the court about several of these so-called "analog hole" verdicts in an earlier filing. It therefore makes sense that puling these older products is part of the settlement.
This allows Warner Bros. and the Intel daughter company to save face, but it's only a minor conciliation. With the 4K integral still up for sale, the Chinese hardware manufacturer has without doubt booked a moral victory in this lawsuit.