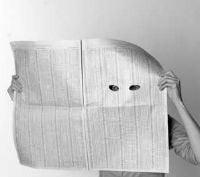 For the privacy-conscious Internet user, VPNs and similar services are now considered must-have tools. In addition to providing much needed security, VPNs also allow users to side-step geo-blocking technology, a useful ability for today's global web-trotter.
While VPNs are often associated with file-sharing activity, it may be of interest to learn that they are also used by groups looking to crack down on the practice. Just like file-sharers it appears that anti-piracy groups prefer to work undetected, as events during the past few days have shown.
Earlier this week while doing our usual sweep of the world's leading torrent sites, it became evident that at least two popular portals were refusing to load. Finding no complaints that the sites were down, we were able to access them via publicly accessible proxies and as a result thought no more of it.
A day later, however, comments began to surface on Twitter that some VPN users were having problems accessing certain torrent sites. Sure enough, after we disabled our VPN the affected sites sprang into action. Shortly after, reader emails to TF revealed that other users were experiencing similar problems.
Eager to learn more, TF opened up a dialog with one of the affected sites and in return for granting complete anonymity, its operator agreed to tell us what had been happening.
"The IP range you mentioned was used for massive DMCA crawling and thus it's been blocked," the admin told us.
Intrigued, we asked the operator more questions. How do DMCA crawlers manifest themselves? Are they easy to spot and deal with?
"If you see 15,000 requests from the same IP address after integrity checks on the IP's browsers for the day, you can safely assume its a [DMCA] bot," the admin said.
From the above we now know that anti-piracy bots use commercial VPN services, but do they also access the sites by other means?
"They mostly use rented dedicated servers. But sometimes I've even caught them using Hola VPN," our source adds. Interestingly, it appears that the anti-piracy activities were directed through the IP addresses of Hola users without them knowing.
Once spotted the IP addresses used by the aggressive bots are banned. The site admin wouldn't tell TF how his system works. However, he did disclose that sizable computing resources are deployed to deal with the issue and that the intelligence gathered proves extremely useful.
Of course, just because an IP address is banned at a torrent site it doesn't necessarily follow that a similar anti-DMCA system is being deployed. IP addresses are often excluded after being linked to users uploading spam, fakes and malware. Additionally, users can share IP addresses, particularly in the case of VPNs. Nevertheless, the banning of DMCA notice-senders is a documented phenomenon.
Earlier this month Jonathan Bailey at Plagiarism Today revealed his frustrations when attempting to get so-called "revenge porn" removed from various sites.
"Once you file your copyright or other notice of abuse, the host, rather than remove the material at question, simply blocks you, the submitter, from accessing the site," Bailey explains.
"This is most commonly done by blocking your IP address. This means, when you come back to check and see if the site's content is down, it appears that the content, and maybe the entire site, is offline. However, in reality, the rest of the world can view the content, it's just you that can't see it," he notes.
Perhaps unsurprisingly, Bailey advises a simple way of regaining access to a site using these methods.
"I keep subscriptions with multiple VPN providers that give access to over a hundred potential IP addresses that I can use to get around such tactics," he reveals.
The good news for both file-sharers and anti-piracy groups alike is that IP address blocks like these don't last forever. The site we spoke with said that blocks on the VPN range we inquired about had already been removed. Still, the cat and mouse game is likely to continue.