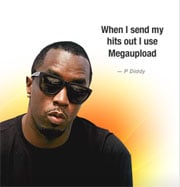 A month before its shutdown Megaupload pulled off one of the biggest file-sharing related marketing coups in recent memory.
The file-hoster released a pro-Megaupload song featuring stars such as P Diddy, Will.i.am, Alicia Keys, Kanye West, Snoop Dogg, Mary J Blige, Kim Kardashian and even boxer Floyd Mayweather all publicly endorsing the site.
Within hours the 'Mega Song' was watched by hundreds of thousand of people, but the fun stopped when Universal Music Group (UMG) took down the video from YouTube. In response, Megaupload filed a lawsuit against UMG and after several days YouTube finally reinstated the video.
Why the video was taken down has never been made clear. However, UMG did reveal that it had a deal with YouTube to take down content even if it doesn't infringe their rights, which raised the eyebrows of many legal experts.
The lawsuit had the potential to turn into a landmark case, but it was quickly overshadowed by the criminal indictment against Megaupload. This is one of the reasons why Megaupload's legal team has now decided to voluntarily dismiss the case.
"The sham takedown notice case will be dismissed without prejudice," Megaupload attorney Ira Rothken told TorrentFreak. "Megaupload will be permitted to refile the case if it chooses to do so," he added.
Megaupload still believes the Mega Song takedown was illegitimate, but its legal team needs to direct all of its resources towards defending Megaupload against the criminal charges of the United States Government, as well as the troll lawsuits currently being filed.
"Megaupload is shifting its litigation resources to defending against recent US copyright related actions across the world and opportunistic copycat civil suits," Rothken told us.
The current priority for Mega is to file a motion in response to the US indictment. Earlier this week Megaupload's Kim Dotcom exclusively revealed some of the evidence they will use to refute the allegations that they were operating a piracy haven, including friendly partnership requests from major entertainment industry companies.
But there is much more to present, according to Dotcom.
"These are just a few hints," he told TorrentFreak. "Our upcoming court filings will reveal the full nonsense dimension of the indictment."
The Mega Song (uncensored)