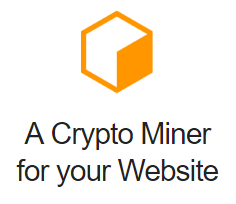 Just over a month ago, a Javascript cryptocurrency miner was silently added to The Pirate Bay. Noticed by users who observed their CPU usage going through the roof, it later transpired the site was trialing a miner operated by Coinhive.
Many users were disappointed that The Pirate Bay had added the Javascript-based Monero coin miner without their permission. However, it didn't take long for people to see the potential benefits, with a raft of other sites adding the miner in the hope of generating additional revenue.
Now, however, Coinhive has an unexpected and potentially serious problem to deal with. The company has just revealed that on Monday night its DNS records maintained at Cloudflare were accessed by a third-party, allowing an unnamed attacker to redirect user mining traffic to a server they controlled.
"The DNS records for coinhive.com have been manipulated to redirect requests for the coinhive.min.js to a third party server. This third party server hosted a modified version of the JavaScript file with a hardcoded site key. This essentially let the attacker 'steal' hashes from our users," Coinhive said in a statement.
The company hasn't revealed how long the unauthorized redirect stayed in place for, but it appears that all coins mined on sites hosting Coinhive's script were 'stolen' during the period, instead of being credited to their accounts.
Coinhive stresses that no user account information was leaked and that its website and database servers were uncompromised. But while that's good news, the method that the hackers used to access the company's DNS provider lay in a basic security error.
Back in 2014, crowdfunding platform Kickstarter – which Coinhive used – fell victim to a security breach. After being advised of the fact by law enforcement officials, Kickstarter shut down unauthorized access, began strengthening its systems, while advising customers to do the same.
While Coinhive did respond to the warning to ensure that its data was safe, something slipped through the net. One piece of information – its Cloudflare account password – remained unchanged after the Kickstarter attack. It now seems the most likely culprit for this week's DNS breach.
"The root cause for this incident was an insecure password for our Cloudflare account that was probably leaked with the Kickstarter data breach back in 2014," Coinhive says.
"We have learned hard lessons about security and used 2FA and unique passwords with all services since, but we neglected to update our years old Cloudflare account."
While not mentioning Coinhive explicitly, Kickstarter warned earlier this month that the 2014 incident may not be completely over. In an update posted on the site Oct 6, Kickstarter noted that some of its customers had recently been hearing more information about the breach from notification service Have I been pwned?.
In the meantime, Coinhive has issued an apology and indicated it will find ways to reimburse sites which have lost revenue as a result of the DNS hack.
"We're deeply sorry about this severe oversight," the company said. "Our current plan is to credit all sites with an additional 12 hours of their the daily average hashrate. Please give us a few hours to roll this out."
Based on earlier calculations carried out by TF, The Pirate Bay (if it was mining during the breach) could be potentially owed around $200 for the lost hashes, give or take. After turning off mining in September, the site reactivated it again in October, with no opt-out. The situation appears fluid.
While the hack is obviously a disappointment, Coinhive appears to have advised its users quickly and transparently, which under the circumstances is exactly what's required. The fact that it's offering compensation to users will also be welcomed.
The breach is the latest controversy to hit the company. Earlier this month, Cloudflare began banning sites which implemented Coinhive mining without informing their users. The CDN company said it considered non-advised mining as malware.